In many businesses, document-related expenses are one of the largest unmanaged expenses. Studies show that 90% of business owners are unaware of their total printing spend[1], which totals an estimated 1 to 3% of their annual revenue.[2] Managed print services (MPS) gives you visibility and control over your business's printing which contributes to a healthier bottom line.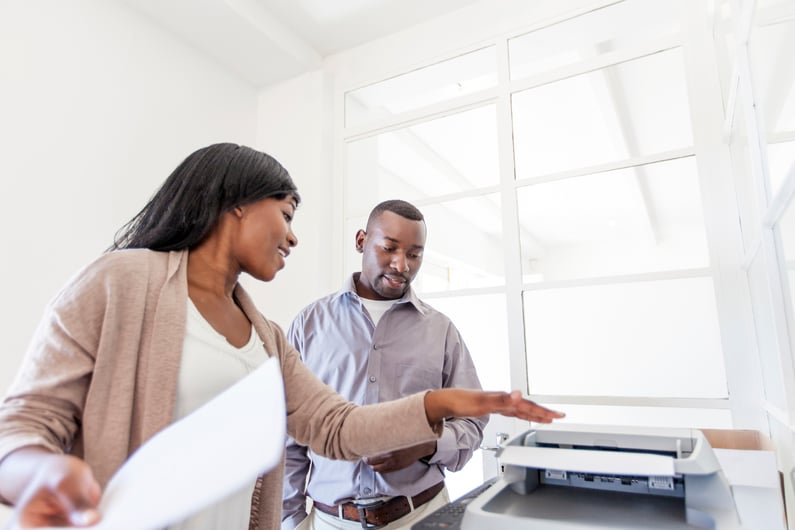 A business's printing costs includes the total costs incurred to manage and optimize the printer fleet and printer production, as well as the technical staff and processes that support the printer fleet. A MPS strategy allows you to control printing expenses by having a provider manage your fleet of printers. Benefits of a MPS strategy include:
Increased productivity

Reduced costs

Streamlined printer placement

Predictable printing
[You Might Also Like: Blog Article – "4 Major Benefits of Managed Print Services"]
Prosource's MPS experts work with you to make sure you gain full visibility and control of your printing, which helps you reduce costs, boost productivity, improve environmental sustainability, and increase document security. Our team uses a four step approach to implement an effective MPS strategy that is right for your business. The four step approach includes:
Assessment of your current print environment: Evaluate your current hardware and print costs to uncover areas of inefficiency or redundancy in your print environment.

Implementation of your MPS strategy: Address the issues found while assessing your current print environment through device consolidation and optimization, as well as setting standards and practices for both printing and digital document management.

Supplies management & proactive maintenance: This will ensure your new MPS strategy is effective and relieves the obligations of print management from your staff. Your staff will now be able to focus on strengthening the business's core activities.

Tracking & reporting: Long-term success of your MPS strategy relies on accurate tracking and reporting. A MPS strategy gives you greater cost visibility and new tools to track print usage which allows you to enhance business processes, take control of printing costs, and plan for future document needs.
[You Might Also Like: Blog Article - "6 Tips for Evaluating a Managed Print Services Program"]
A MPS strategy from Prosource in an all-inclusive, customized solution that streamlines the management of your print environment, exposes hidden costs, and reduces costs. We provide:
Cost control & budget visibility

Remote monitoring & support

Automatic meter reads & supply replenishment

Optimized print output environment

Improved business processes

Added value to your TCO

Extend the life of your printers

Reduced vendor management
MPS solutions streamline workflow for more productive employees, reduce the workload of your IT department, and enhances a business's ability to manage their printing environment more efficiently.
[You Might Also Like: Blog Article - "What is Managed Print Services and Why Should You Care"]
Want to learn more about Prosource MPS and how your business can benefit from a MPS strategy? Join us at Prosource Tech Show VIII, Presented by Konica Minolta on Thursday, September 15, 2016 from 10am to 2pm at Paul Brown Stadium. There, you will be able to talk to the Prosource MPS experts and explore MPS options for your business.
[1] Buyers Laboratory [2] Gartner