True Cost of Printing and Why You Should Care About Managed Print Services
Document-related expenses are one of the largest unmanaged expense for many organizations. In fact, studies show that only 1 out of 10 business owners are aware of their total printing spend.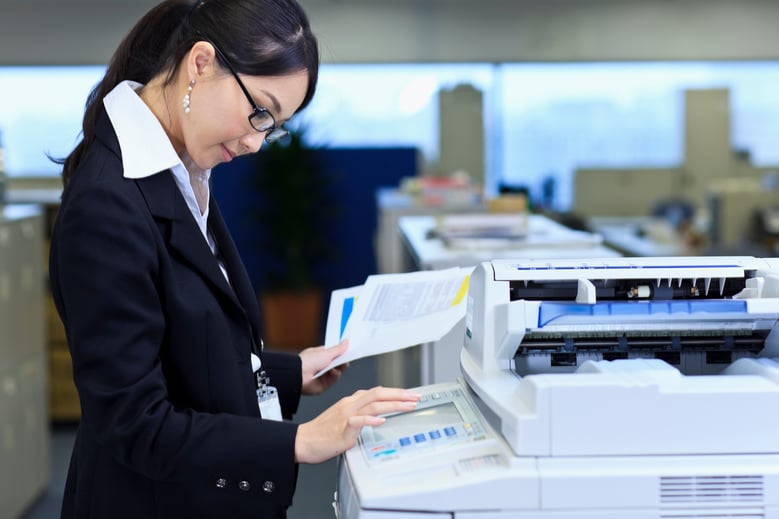 A business's printing costs includes more than just the toner and paper used, it includes the total costs incurred to manage and optimize the printer fleet and printer production, as well as the technical staff and processes that support the printer fleet. Typical printing costs include:
All printing devices within the office, including desktop printers, multifunction printers (MFPs), copiers, scanners, fax machines, and production printers
Every document created by employees, regardless of location
Paper, ink, toner, and other supplies used during the printing process
Documents and materials that are outsourced for quick printing, offset printing, mailing, and distribution
Internal and external help desk support, IT support, technical service, and maintenance
[You Might Also Like: Blog Article - "What is Managed Print Services & Why Should You Care"]
Between toner, paper, printing clicks, and printing equipment, on average, businesses can spend up to 3% of their annual revenue on printing.¹
Industry estimates show that for every $1 spent on printing, businesses spend another $9 to manage the printing environment.² For example, if the cost of printing one document is $.05 and, on average, an office worker prints 10,000 documents annually, the total cost of printing for one office worker is $5,000 per year. If your office has 30 employees, that reflects $150,000 spent each year on printing.
You Might Also Like: Blog Article & Infographic: "6 Tips for Evaluating a Managed Print Services Program"]
Managed Print Services (MPS) is a program offered by print providers that manages and optimizes your entire print environment. MPS goes beyond reducing printing and paper usage. Just as your business is always evolving, MPS continues to evolve to help businesses meet their information challenges. Optimizing your print devices enables businesses to save money, reduce paper waste, and increase efficiency.
[Click here to learn more about MPS from Prosource]
The goal of a successful managed print services (MPS) program is to give businesses visibility and control over their printing, resulting in an increase in productivity and a decrease in printing costs by up to 30%.³ With a MPS solution, an office of 30 employees can save up to $45,000 per year on printing, or 30% of total annual printing costs.
Printers, fax machines, scanners, and copier costs are often overlooked in businesses, especially since print costs are paid from numerous budgets and departments. Not having a clear understanding of how much is spent annually for hardware, toner, ink cartridges, paper, and management overhead results in unmanaged print spending.
¹ Joch, Alan, BizTech Magazine, http://www.biztechmagazine.com/article/2012/04/benefits-using-managed-print-services (accessed July 1, 2016). | ² Joch, Alan, BizTech Magazine, http://www.biztechmagazine.com/article/2012/04/benefits-using-managed-print-services (accessed July 1, 2016). | ³ Gillhooly, Kim, BizTech Magazine, http://www.biztechmagazine.com/article/2015/03/can-managed-print-services-save-you-money (accessed July 1, 2016)