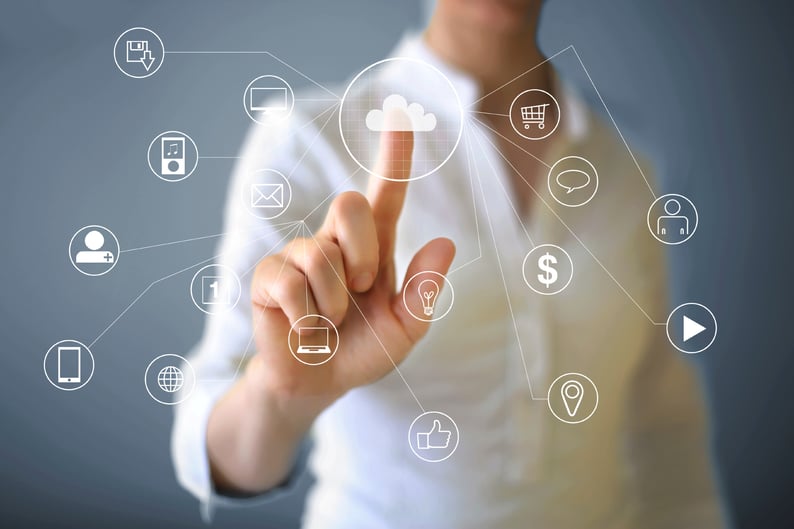 What is OnBase
OnBase is a single enterprise information platform for managing content and processes. The platform automates your processes, manages your important business content in one secure location, and works with your other business applications to deliver your relevant information whenever and wherever you need it.
Once you have your information under control and your processes streamlined, you will have visibility into the status of processes, documents, and information while also supporting retention requirements; this will make your business more agile, efficient, and effective. Whether you implement a single departmental solution or deploy solutions across your entire business, you will improve service, reduce operating costs, and minimize risk.
[You might also like "5 Benefits of Enterprise Content Management"]
OnBase Core Platform Strengths
Every OnBase solution comprises four core strengths: cloud, mobile, integrations, and security.
OnBase Cloud
The OnBase cloud solution delivers unmatched cloud enterprise content management (ECM) capabilities and gives businesses access to their information from highly-secure data centers.
Hyland, creator of OnBase, is a pioneer in cloud ECM. Because of Hyland's comprehensive understanding of hosted solutions, the OnBase Cloud is able to facilitate high volume, transaction ECM including capture, workflow, and mobile access.
OnBase Mobile
With OnBase Mobile, users can instantly retrieve information and data, enact business process decisions, and view status dashboards of the processes most important to them. The ability to complete and sign forms within the mobile application speeds up decision making and allows for greater control of content management.
Offline access is also available to users, allowing them to take documents out of the office on a mobile device or tablet to read and manage without Internet or network connection. This also means that employees who spend most of their day out of the office will have access to the information they need without connection back to the office. They are able to create, retrieve, and update documents, complete forms and upload photos while offline. OnBase automatically synchronizes and reconciles all changes made once the user is back online.
OnBase Integrations
Whether you rely on ERP, accounting, HR, claims, lending, electronic medical records, student information, or other critical systems that drive your core processes and are critical for every operations, OnBase integrates with these applications to provide seamless content management.
OnBase acts as a central repository for all information, intelligently linking the documents and data within OnBase to the transactions and activities of other applications. Users are given instant access to related content stored in OnBase without leaving their business application. Since OnBase can instantly update your business applications as soon as it receives information, and vice versa, manual data entry is greatly reduced.
OnBase Security
With OnBase, your information is protected throughout its lifecycle with built-in security features and additional security extensions. One security feature is secure permissions. User privileges in OnBase are designed to fit your business's needs to ensure all information is protected by default. OnBase also offers a variety of other security features including: encryption to keep your data secure while at rest, in motion, or in use; masking to restrict unauthorized users from seeing unnecessary information stored In OnBase keywords; and, automatic redaction according to business rules, or manually redacted by users.
[You might also like "5 Tips for Choosing the Right ECM Solution for Your Business"]
Prosource: A Strategic OnBase Partner
As a strategic OnBase partner, Prosource offers more than just industry-leading software. Our team of experts provide analysis, planning, training, and a close collaborative approach to ensure your success and ROI. We begin by learning your business, discovering inefficiencies, making process improvements, and tailoring the OnBase solution to fit your unique business needs and goals.
Our team of dedicated professionals helps businesses better articulate and execute a transformational document strategy to leverage and increase the value of business information. Prosource's comprehensive methodology and strategy offers a unique approach to identifying your current business processes, determining areas of process improvement, capturing ideas that will impact the solution, and designing and implementing new business processes.
We're there every step of the way to ensure that deployment strategies and product integrations are appropriately planned, sustainable, and seamless.
For more information about Prosource's document management solutions and how we can help you transform your business processes, please contact your Prosource sales representative.