For healthcare providers moving to the cloud, security is likely the number one concern. The Health Insurance Portability and Accountability Act (HIPAA) details strict rules that require both covered entities and business associates to secure and protect all data dealing with patients – from detailed medical history to emails confirming appointments.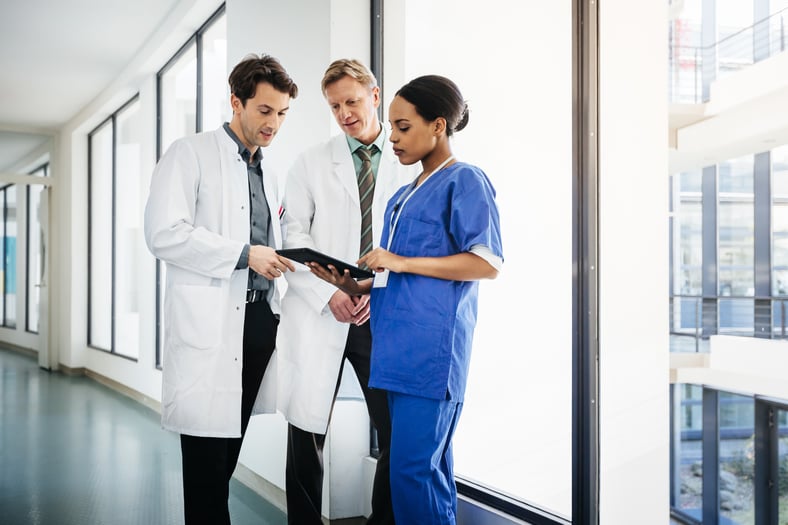 HIPAA's privacy rule is designed to ensure protected health information (PHI) is protected and sets national standards for who is permitted access to PHI of any form – electronic, paper, or oral. PHI includes any individually identifiable health information including:
Mental health history

Healthcare services

Payments for healthcare

Other identifiable information, such as name, address, or social security number
HIPAA's security rule requires appropriate administrative, physical, and technical safeguards to maintain confidentially, integrity, and security of PHI. Below are general safeguards to take into consideration for each segment: physical, technical, and administrative.
[You Might Also Like: Blog Article - "5 Benefits of Enterprise Content Management (ECM)"]
Physical Safeguards
Protect and secure your facility by using locked doors, badges, surveillance cameras, guards, alarms, etc.

Control physical access based on function by making sure everyone in your building only has access to information and locations that are relevant to their scope of work.

Separation between public and private areas clear and enforced.

Setup workstations to face away from patients.
[You Might Also Like: Blog Article - "Enterprise Content Management Increases Efficiency & Effectiveness"]
Technical Safeguards
Access control in your software and systems to safeguard patient data.

Require multiple pieces of data to sign in to computers, software, and other systems such as password, pin number, username, etc.

Setup systems to automatically log off users after a certain time period to prevent unauthorized users from accessing information if a user fails to log out and leaves the computer unattended.

Encrypt all your files so they are only accessible by people with an encryption key. Everything from data in motion to email messages should be encrypted.

Backup your medical record and files and use a remote side. A remote site should be used so that if a disaster damages your facility, it won't damage your backup.

Create a disaster recovery plan so that you can get your system up and running again if disaster strikes.
You Might Also Like: Blog Article & Infographic - "[Infographic] Enterprise Content Management in the Cloud"]
Administrative Safeguards
Sign business associate agreements (BBA) with all your partners and anyone who transports, stores, or processes information to ensure HIPAA compliance rules are followed.

Educate your staff and partners to make sure everyone understands data security. Use qualified security experts to train and retrain your staff to prevent data breaches and compromises of PHI.

Control how data is preserved, changed, and destroyed by creating a process for auditing data. Include procedures for backing up data regularly, erasing it from old computers at the time of disposal, and auditing user access.

Conduct an annual HIPAA security risk analysis and document changes in hardware, software, organization structure, and staff, as well as any security issues that arise over the course of the year.
[You Might Also Like: Blog Article - "What is Enterprise Content Management and Why You Need It"]
Getting your entire organization onboard with policies and procedures to maintain compliance can be difficult to achieve, especially if your staff is switching between multiple portals and encryption programs to communicate securely. OnBase enterprise content management (ECM) solutions offer a full-featured document management suite, offers healthcare-specific functionality, and integrates with existing software applications and hospital information systems.
OnBase ECM solutions provides secure storage, retrieval, and business process management for documents and content. It also helps healthcare organizations reduce costs while maintaining high levels of care and service.