Prosource is thrilled to announce that it has been recognized as one of the Cincinnati region's Top Workplaces for 2020 by The Enquirer and Cincinnati.com, reflecting our commitment to cultivating an engaged company culture where our team members can make an impact every day.
Why is recognition as a winner of the Top Workplaces Award so meaningful? Because it's based entirely on feedback from our own associates.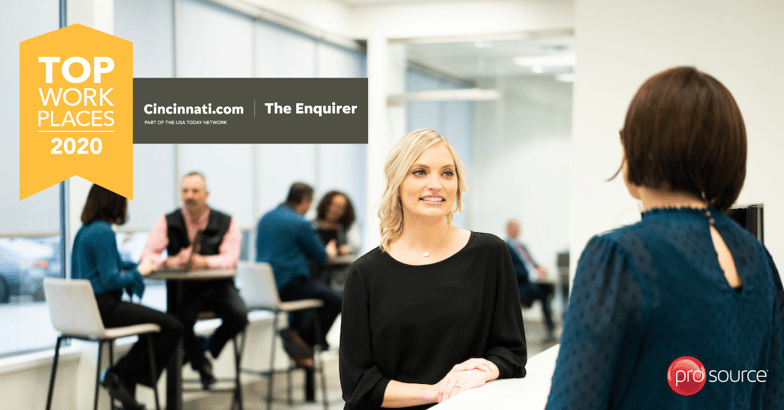 Recognizing Employee Engagement & Culture
To uncover the region's top workplaces, The Enquirer partnered with Energage to survey companies, gather anonymous employee feedback, and determine the region's top employers.
For 2020, more than 36,000 employees across Greater Cincinnati responded to questions about drivers of engaged cultures—including alignment, execution, and connection, just to name a few—providing feedback on topics such as…
Are employees aligned with where the company is headed?
Do managers care about concerns and encourage employee development?
Do employees find their work meaningful?
Do employees feel connected to one another and to company leadership?
How do employees feel about benefits and training opportunities?
At Prosource, You're Part of Something Special
Prosource team members rated the company especially strong in enabling associates to work to their full potential, and in operating with strong values. Associates agreed that they feel supported by their manager and that company leadership makes them feel like they are part of something special.
Our President & CEO, Brad Cates, says the feeling is mutual.
"When I'm asked what makes Prosource special, I always give the same answer: our team. I firmly believe that we are the best at what we do because of our people and the unique, customer-centered culture we have built," said Cates.

"The Top Workplaces Award is a true honor—it means that we are successfully bringing to life our values and our commitment to our customers, our community, and our team. Even in challenging times, our engaged team and strong culture have proven to be an unstoppable force, and I'm so proud of the attitude, effort, and energy they bring to Prosource every day."
This energy and commitment have proven especially important during the challenges of the past few months.
"In times of great change, it is more important than ever to maintain a connection among employees," said Eric Rubino, Energage CEO. "When you give your employees a voice, you come together to navigate challenges and shape your path forward based on real-time insights into what works best for your organization. The Top Workplaces program can be that positive outcome your company can rally around in the coming months to celebrate leadership and the importance of maintaining an employee-focused culture, even during challenging times."
What Our Associates Had to Say
Here are some of the comments our team members shared about why they think Prosource is a great place to work.
"At Prosource, I get to be myself and there is a real sense of camaraderie within our team. Our constant focus is on doing what is right by the customer – not just growing revenue."
"I came from a large corporation. Being able to talk directly with Prosource's senior management is a refreshing change. The team here is 'in it together,' and everybody wants to succeed and do their part to make Prosource successful now and in the future."
"My job is meaningful for so many reasons: the winning culture, the family feeling when we all rally together for a bigger purpose, the personal relationships gained both inside and outside of Prosource, the personal and professional development I've found here, and the ability to truly take care of our customers."
"I know that the work I do makes a difference to the company, and I genuinely have fun doing it."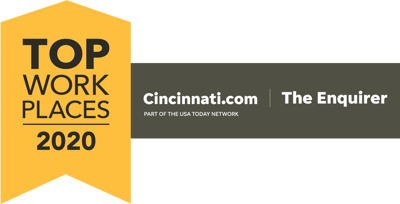 Congratulations to our team, and thank you for making Prosource one of Greater Cincinnati's best places to work!
---