Prosource, a Midwest business technology leader, announces recognition received as an Award Winner of the 2019 Best of Print & Digital® program.
The Best of Print & Digital® is an annual program that identifies which companies have provided the highest service delivery to their customers over the last year through independent survey research performed by Butler Street Research for the print and digital industry. The survey uses the Net Promotor Score (NPS) methodology, a leading indicator of client retention and future growth. Only the very top companies in the industry are able to achieve this distinction, and Prosource is honored to receive this award.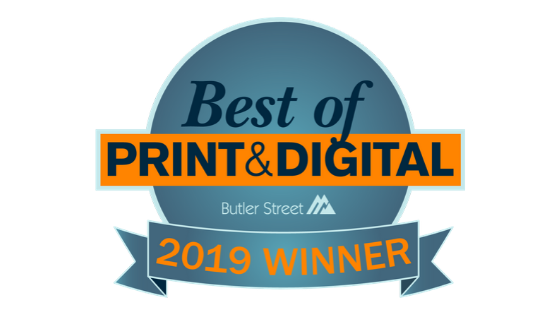 A Focus on Customer Experience and Loyalty
"Providing an unmatched customer experience is at the heart of everything we do. Our customer loyalty score (NPS) is the number one metric across the business and something we focus on obsessively," said Brad Cates, President & CEO of Prosource. "The Best of Print & Digital Award is particularly meaningful because it reflects that our efforts to be the trusted technology partner of choice have resonated with our customers. This recognition serves as a benchmark as to why we're here: to remain entirely focused on our customers and work hard to make an impact on their business every day."
"This year's winners, including Prosource, continue to move the needle on both their loyalty scores and revenue growth," said Mike Jacoutot, Butler Street's founder and managing partner. "They understand each client interaction is important and distinguish themselves with a better client experience."
About Butler Street
Butler Street, a leading provider of client loyalty research and retention programs across the print industry launched the Best of Print & Digital Program® to recognize those companies with the highest customer loyalty in the industry. Butler Street specializes in helping companies and their people grow and delivers lasting results in the two most challenging areas that companies face: client development and talent development. Learn more about the Best of Print & Digital®.
About Prosource
Prosource helps companies large and small optimize processes, reduce costs, and drive profits with a robust array of business equipment and IT services. Serving Ohio, Indiana, Kentucky, and West Virginia, Prosource provides industry-leading Office Equipment, Document Automation and Technology Solutions delivered with an unmatched customer experience.
As a reflection of this commitment to excellence, Prosource has earned recognition locally and nationally in the areas of customer service, workforce engagement, community service, business ethics, and overall company performance.
In recent years, Prosource has been named "Outstanding Managed Services Program" and "Dealer of the Year" by imageSource Magazine; has earned the top service ranking from its office equipment manufacturers for 15 consecutive years; has consistently been named an Elite Dealer by ENX Magazine and recognized for world-class service delivery by PROs Elite; received "Best Places to Work" Finalist designation by the Cincinnati Business Courier for three consecutive years; and received the distinguished "Award of Excellence," ranking first out of more than 350 Konica Minolta solutions providers
Prosource Media Contact:
Amy Mersch
Marketing Manager
513.769.0606 ext. 1213
amersch@totalprosource.com