Prosource and Kentucky Speedway have finalized a long-term agreement extending their partnership through 2024. Prosource has been the Official Technology Provider for Kentucky Speedway since 2011.
In addition to the year-round support, Prosource provides equipment during the Quaker State 400 presented by Walmart NASCAR weekend in July. Fully serviced, top-of-the-line copiers, printers, scanners and multifunction devices are utilized in key areas at the speedway including but not limited to the administration building, operations, media center, press box, command center and ticketing.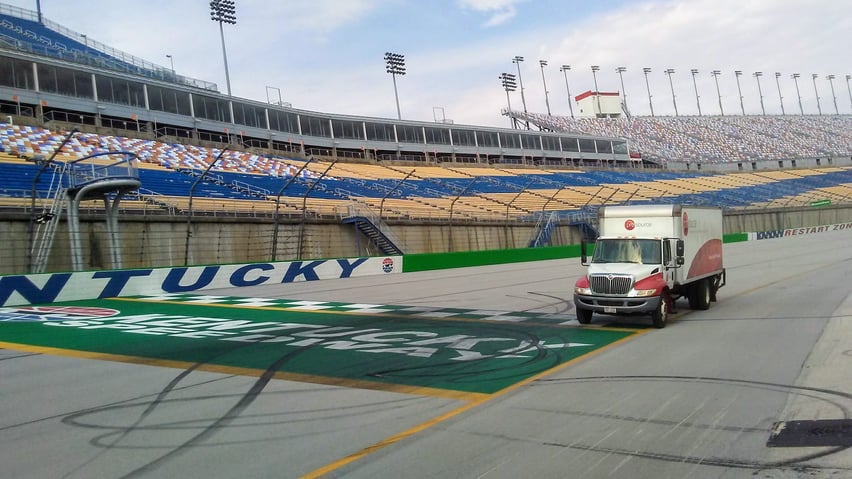 Partnering for Speed, Reliability, and Customer Experience
Prosource's commitment to providing powerful business technology solutions delivered by the best customer experience in the industry aligns closely with Kentucky Speedway's own mission to create the ultimate customer experience in sports for its loyal fan base.
"As one of the fastest-growing companies in the Midwest, we're thrilled to continue our partnership with Kentucky Speedway—an iconic brand in this region known for its outstanding customer experience and tremendous customer loyalty and passion," said Brad Cates, President & CEO of Prosource. "Our powerful business technology solutions bring reliability, efficiency, and speed to ensure operations and communications keep pace in the speedway's action-packed environment."
With Kentucky Speedway as a platform, Prosource raises awareness of its brand in its four-state marketplace of Kentucky, Ohio, Indiana and West Virginia. In addition, Prosource receives priority placement on trackside billboards, the official Kentucky Speedway souvenir program, front stretch Speedway TV, and official Kentucky Speedway PA announcement during the NASCAR triple-header weekend.
"NASCAR's foundation is business relationships so providing technology solutions is critical to a successful race weekend. We would not consider handling these demands with anyone other than Prosource," said Mark Simendinger, General Manager of Kentucky Speedway. "We are proud to extend our long term relationship and are excited to be affiliated with such a fast growing, innovative company founded on quality products and service."

The 2019 season at Kentucky Speedway begins in July with the return of a NASCAR triple-header weekend anchored by the Monster Energy NASCAR Cup Series Quaker State 400 presented by Walmart on Saturday, July 13. The Gander Outdoors Truck Series Buckle Up in Your Truck 225 starts the weekend on Thursday, July 11 and the Xfinity Series Alsco 300 is Friday, July 12.
About Prosource
Prosource helps companies large and small optimize processes, reduce costs, and drive profits with a robust array of business equipment and IT services. Serving Ohio, Indiana, Kentucky, and West Virginia, Prosource provides industry-leading Office Equipment, Document Automation and Technology Solutions delivered by an unmatched customer experience.
As a reflection of this commitment to excellence, Prosource has earned recognition locally and nationally in the areas of customer service, workforce engagement, community service, business ethics, and overall company performance.
In recent years, Prosource has been named "Outstanding Managed Services Program" and "Dealer of the Year" by imageSource Magazine; has earned the top service ranking from its office equipment manufacturers for 15 consecutive years; has consistently been named an Elite Dealer by ENX Magazine and recognized for world-class service delivery by PROs Elite; received "Best Places to Work" Finalist designation by the Cincinnati Business Courier for three consecutive years; and received the distinguished "Award of Excellence," ranking first out of more than 350 Konica Minolta solutions providers.
About Kentucky Speedway
Owned by Speedway Motorsports, Inc. (SMI), Kentucky Speedway is a 1.5-mile tri-oval located in Sparta, Kentucky, just 35 miles south of Greater Cincinnati/Northern Kentucky. The track attracts fans from the tri-state area of Kentucky, Ohio, Indiana and beyond. Entering its 20th season of racing, the speedway hosts all three national NASCAR series.
In July 2019, the venue will present the ninth running of the Monster Energy NASCAR Cup Series Quaker State 400 presented by Walmart. Prior to 2011, Kentucky Speedway hosted stand-alone NASCAR Xfinity Series and the NASCAR Gander Outdoors Truck Series races. Currently, all three races take place in a July NASCAR triple-header weekend.
The venue also is home to many other special events throughout the year including concerts, driving schools, car shows, and fitness runs. Learn more about Kentucky Speedway.
Prosource Media Contact: Amy Mersch | 513.769.0606 ext. 1213 | amersch@totalprosource.com