Do you have an EFI Fiery on your print servers but aren't currently using Command WorkStation? If so, it's time to install and start using Command WorkStation.
Fiery Command WorkStation (CWS) is a free print management software offered by EFI Fiery designed to help you prepare and manage print jobs more efficiently. If you're managing the print on one or more Fiery print servers, regardless of engine brand, downloading CWS on your computer will streamline print management and increase user productivity and efficiency.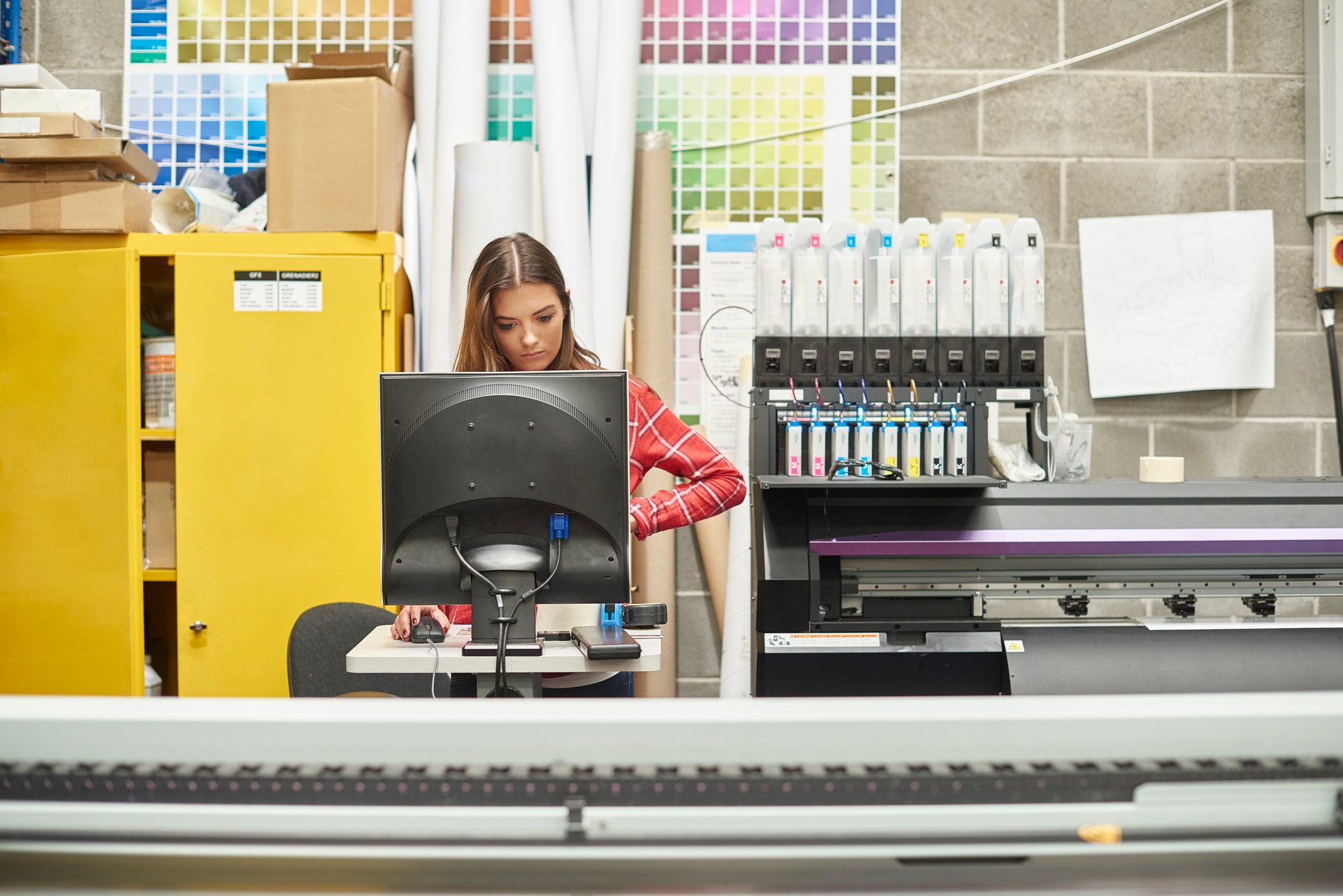 Is Command WorkStation Right for You?
While CWS can be downloaded and used by any user who has a Fiery on their print servers, it's ideal for production operators and production managers. This includes print-for-pay franchisees and quick printers, in-plant central reproduction departments (CRD) at large corporations, universities, or government agencies, and commercial printers such as trade shops and digital printers.
If you identify with any of the profiles above, you're a good fit for CWS.
[You Might Also Like – Blog Article: "6 Signs It's Time to Stop Outsourcing and Start In-House Print Production"]
Effectively Manage Your Print Queue
Once you have CWS installed on your computer, you can connect to one or all the Fierys on your network. CWS gives you a unified interface to effectively manage all print production equipment in your business, including cutsheet printers, wide format printers, and more. This allows you to toggle between the print queues and even move one job from one printer to another. From one system, you can view jobs that are currently processing and printing. You can also easily access archived jobs on the Fiery hard drive, enabling you to quickly reprint jobs.
Have you ever sent a job to print, only to find out that it never printed? With CWS, you no longer have to wonder about what happened to missing print jobs. Having CWS installed on your computer gives you the ability to manage print jobs in real time.
CWS also gives you the option to stop a job in the print queue, tweak the print settings, and resend the file without having to start the process all over again. This feature is very beneficial when you forget to add a finishing function, set the document to print duplex, etc.
Intuitive, Efficient, and Productive Interface
CWS has a simple user interface, making managing the print on your devices more efficient. From a customizable toolbar and instant status updates to having all Fiery servers on an integrated job preview, CWS has functionality for both novice users and more savvy users.
The Job Center is the main work area of Command WorkStation. It's a centralized place to access jobs before going to print, and it allows users to view all connected Fiery servers and manage all jobs. When viewing all of your Fierys though the Job Center, you can find jobs quickly since the queues (for example, hold, printed, or archived) are listed under the server name.
Features that save you time include drag and drop and inline editing. With the drag-and-drop feature, you no longer have to import your document for print. Instead, you can simply drag your PDF from its location on your computer and drop it into the designated held job queue. Inline editing also saves you time by giving you the ability to edit the number of copies, job name, and workflow in your queue, which means you don't have to open each job file to make your changes.
Weekly Production Metric Snapshot
CWS's home view gives production managers a quick snapshot of key production statistics during the last week. The snapshot includes two charts: one for jobs and impressions and one for media usage per day.
The jobs and impressions chart gives users the option to toggle between the two metrics. The jobs chart tracks the number of jobs printed or cancelled per day. The impressions chart tracks the number of pages produced each day, and it displays color and black-and-white impressions in different colors to show variation in the click combination. The media usage per day chart reports the five most commonly used media in the week, using different colors for easy identification.
If you want even more visibility into print operations, you can use Fiery Navigator, a cloud-based platform for print analytics and features that allows you to compare performance efficiency across devices.
The statistics included with CWS are designed to help production managers identify when printers need attention due to errors or paper jams, gain visibility into key production metrics to make proactive management decisions, gain better operational control over multiple engines, and quickly see printer performance over the last week.
How to Download Command WorkStation
To download the latest version of Fiery Command WorkStation, click here. You will be directed to the page below.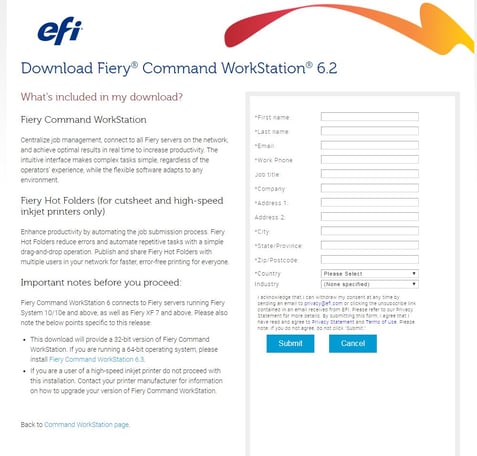 Fill out the form and click submit. After filling out the form, you will be redirected to the page below, where you can download Command WorkStation for your operating system.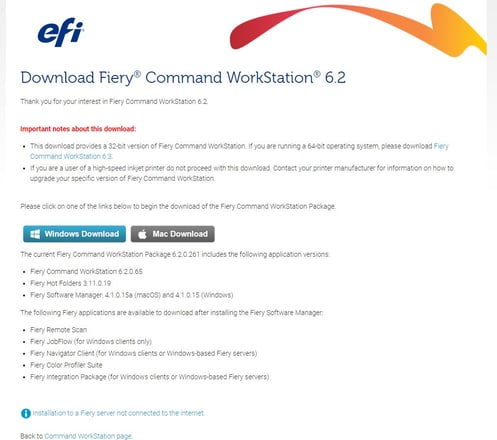 The file will begin downloading in the bottom toolbar of your website page. If you do not see the download (below), navigate to your "downloads" folder on your browser and you will see the software downloading.

Once the download is complete, click on it. A pop-up screen will appear (below) asking if you want to run the file.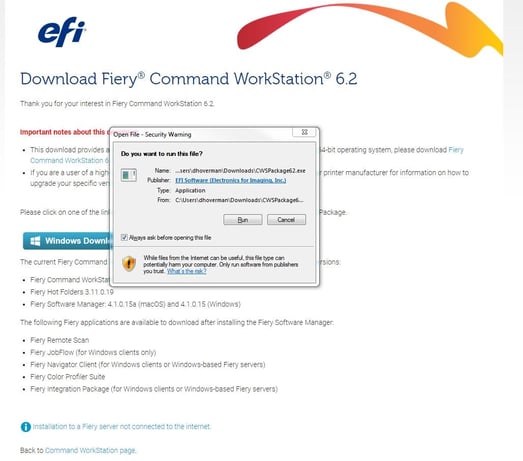 Click "Run." The download will take a few minutes to install on your computer. You will see a pop-up screen (below) displaying the progress of your download.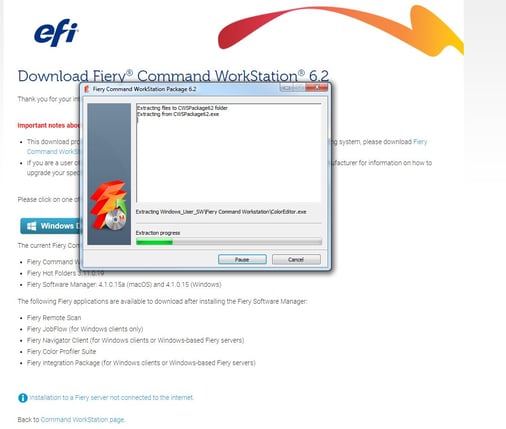 Once the download is complete, you can start using Command WorkStation, making managing the print on all your Fiery servers easier and more efficient.