All a copier dealer needs to do to grow is keep its core business strong, expand its geography, develop some new product lines and perhaps acquire a few companies to help fill in the gaps. That's easy to say, but hard to do.
Cincinnati-based Prosource has done all of that and made it work. One reason for its success? Having a vision and a strong management team in place to execute that vision. In early 2013, Prosource launched Flightplan, a five-year growth and transformation plan designed to aggressively grow the business, expand geographically into new markets and transform the portfolio around durable, high-technology offerings.
Another reason for Prosource's success is a focus on values, integrity and commitment to people—both customers and employees. The plan had three top-level goals: to achieve the highest customer loyalty in the industry, be the best place to work in the Midwest and become one of the fastest growing companies in the Midwest.
Prosource was founded as Cincinnati Copiers in 1985 by David Russert and Ted Cook. David's son, Ben Russert, joined the management team three years later. He is currently chairman and a second-generation owner of the business. In 1990, Prosource expanded to Dayton and became Pro-Copy Technologies. Its rapid growth and advancements in technology prompted a rebranding and a new name in 2005: Prosource. Konica Minolta, Lexmark and Toshiba are Prosource's primary copier brands, and its geographic reach now extends to four states: Ohio, Kentucky, Indiana and West Virginia.
Acquisitions began in 2011 with DocuVision, which expanded Prosource's document solutions offerings. In 2013, Prosource acquired IT solutions company Infitech. Infitech became Prosource's platform for technology services. Prosource rebranded again in 2013, emphasizing its total office technology focus and brand promise to deliver "simple, powerful solutions with the best customer experience in the industry."
Prosource continued expansion in 2014 by opening offices in Louisville and Lexington, Kentucky. In 2015, Prosource acquired Alternative Computer Technology (ACT) and hITech. These acquisitions expanded its managed IT capabilities into Indiana and enhanced its technology solutions portfolio with best-in-class internet security services. Prosource acquired Aaron's Business Solutions in Huntington and Charleston, West Virginia, in 2015. Aaron's Business Solutions provides office equipment technology and services to businesses in West Virginia, Southeast Ohio and Eastern Kentucky.
Prosource's 2016 acquisition of Technology Geeks in Dayton, Ohio, has allowed Prosource to expand its managed IT offering north of Dayton. With the growth and expansion of both the core office equipment business and the newer technology offerings in 2016, Prosource combined its document automation software portfolio and technology solutions/managed IT capabilities under Prosource Technologies. The Prosource Technologies umbrella now makes up over 24 percent of the total company.
ENX recently spoke with Brad Cates, who joined Prosource in November 2012 as president and CEO, about the company's approach to growth.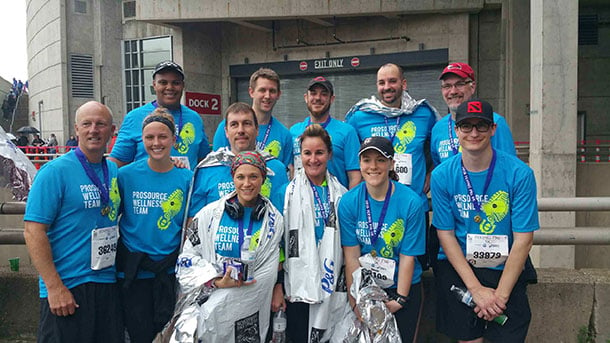 Prosource Team Members complete the Flying Pig 5K.
How is business this year? Where do you see your greatest opportunities for growth?
CATES: We're coming off another solid growth year in 2016, and we have driven strong double-digit growth over the last four years. We expect that growth rate to continue in 2017. There is significant opportunity both in the core office equipment business and the technology areas.
We see continued market-share gains with our copiers, printers and related services by focusing on delivering the best customer experience in the industry and by winning with our sales and service expertise. We expect growth in down-the-street sales, major accounts, production and cross-sell opportunities in this area.
We relaunched our MPS program and directed additional resources and talent at it a couple of years ago, and we've seen significant growth in managed print. We expect this to not only continue, but accelerate in 2017.
We will continue to drive growth in Prosource Technologies by selling managed IT and document automation solutions to existing and new customers. We will also continue to innovate with how we deliver our entire solutions portfolio (MFPs, managed print, managed IT, and related products and services) to our customers in simple, fully-managed, single-payment and exceptionally high customer-experience ways.
What does Prosource pride itself on?
CATES: Our purpose (or our "Why" as we call it) is "to make an impact every day for our customers, communities and team." I believe our people take real pride in commitment and the difference they make for our customers, the communities we serve and one another.
What are some of your newer areas of business? Is it going the way you hoped?
CATES: Since our initial move into managed IT in 2013, we have grown our technology business over five-fold. Prosource Technologies now represents approximately 24 percent of our total business. Our aggressive growth in this area has come from a combination of organic growth and acquisitions. We were very fortunate to acquire a very high-quality, operationally strong IT services firm as our first acquisition in this space, and it became our platform company for IT moving forward. Since that time, we've been able to retain the leadership and talent of the organization and accelerated their growth with strong sales and marketing and three additional IT acquisitions.
Is there a product or solution that you are looking to add in the near future?
CATES: We're constantly looking to add new products and solutions that complement our three primary focus areas: office equipment, document automation and technology solutions. I believe much of our innovation in 2017 will come from finding even simpler, higher impact, higher customer experience ways to deliver and execute on our solutions for our customers.
For example, we can include everything we do for a client–MFPs, printers, software, ECM solutions, computers, servers and their entire IT infrastructure–under a simple, single payment and program to make their lives easier and drive real value to their business. Other examples come in the form of our monthly and quarterly strategic partnership reviews, which have evolved from a tactical review of what we've done to a strategic assessment and conversation about our customer's technology roadmap and how we can help them drive their business outcomes.
What was your dealership's most significant accomplishment or biggest win last year?
CATES: While we are constantly closing large deals and celebrating wins, I believe our most significant accomplishment came in the area of customer experience. Our entire strategy and plan is built on delivering the best customer experience in the industry. We obsessively measure and track this through consistent surveys and feedback measurements. Our primary measurement is the "Ultimate Question," or the Net Promotor Score (NPS). In 2016, our Net Promoter Score was over 90 percent, an all-time high and a clear indication we're doing right by our customers. Goals for 2017 are to raise it even higher and do even better for our customers.
In terms of major accounts, one of our larger wins in 2016 was the City of Cincinnati, where we took over the extensive fleet of 332 copiers and printers across the entire city government infrastructure.
What do you look for in your employees? How do you recruit and retain good ones?
CATES: Prosource is consistently recognized as a "best place to work." We believe in the philosophy of right person, right role, and team fit. To recruit the best team members, we use a battle-tested process that includes an exhaustive series of conversations and interviews with the hiring manager, personality and competency testing, background discovery for attitude and accomplishments, and a focus on team and culture fit. We believe if we can get hiring right, everything else gets a lot easier.
Prosource provides team members with additional training and the resources necessary to make an impact on our customers and the company. Prosource Academy, an internal training and education program, offers nearly 200 courses for team members to explore developmental opportunities and career advancement. Our training, development, leadership programs and certification requirements are designed to encourage team members to take responsibility for their growth and give them the tools they need for success.
Did your company make a big investment in the past year, reach a big milestone or hold an event?
CATES: A "work hard, play hard" mentality is entrenched in the Prosource culture, and frequent recognition of individuals and the team is ingrained in the Prosource Way. Prosource celebrates with all-company events, lunch celebrations, happy hour get-togethers, "Impact Days" where our team goes out in the community and volunteers, quarterly recognition trips and an annual all-inclusive getaway for our top performers, the Eagle's Club.
Every year, we come together company-wide for a week of aggressive sales and cross-company collaboration during our notorious Prosource Blitz Week. This high-intensity week includes nightly all-company events, opportunities to win prizes, and recognition for top performing sales.
What was your biggest challenge in the past year?
CATES: I'll speak to something we keep our eye on and try to manage as we continue to grow and transform the business. We've essentially doubled the size of the business and the number of team members over the last several years. Obviously, growth is exciting, and it creates a lot of opportunity for everyone, but if you're not careful you can take your eye off the things that got you here. We spend a lot of time trying to keep things simple, stay focused on our top priority–the customer–and reinforce the winning, people-oriented culture that Prosource is founded on.
Who do you see as your biggest competition, and how do you differentiate your company from them?
CATES: Like everyone in our industry, we have a lot of competition. We have some very good competitors in the markets that we serve, particularly the independent dealers. Now, our competitors include independent and direct office equipment companies, ECM providers and IT services firms. Our strategy and plan for differentiation is entirely based on the experience we deliver for our customers.
The only two truly sustainable, long-term differentiators for our business are our people and the way we treat our customers. We focus on this and measure it obsessively through surveys, feedback loops and conversations. We're constantly raising our own bar and trying to be better for our customers.
Everything we do is backed by the TotalPro Experience and Guarantee. The TotalPro Experience is a comprehensive six-step approach to identifying customer document needs and exceeding expectations to ensure that we get the job done right from start to finish. We stand behind this commitment unconditionally.
What are your goals for this year?
CATES: We have three main goals:
Have the highest customer loyalty in the industry.

Be the best place to work in the Midwest.

Be one of the fastest growth companies in the Midwest.
We believe that if we get the first two priorities right–our customers and our team–then the third goal of growth will naturally follow. So far, this formula appears to be working, but we're constantly trying to get better. Our FlightPlan is our simple strategic/operating plan that outlines our goals, the strategies we will deploy to achieve them, and the plans and tactics behind each strategy. The Flightplan helps everyone understand where we're going and, more importantly, what they can and need to do to take us there.
How do you view the industry changing in the future and what are you doing to adapt?
CATES: This industry, like most industries, is in a constant state of change and transformation. To win, you need to be willing to change. We've spent a lot of time, money and energy transforming the portfolio of Prosource around higher-technology offerings to increase the durability of our products and ensure a long runway. We will continue to grow and take market share with our core office equipment offerings, aggressively expand our technology solutions and adapt and add new solutions that solve customer problems as we move forward. Everything we do will always be differentiated with, and focused on, the experience we deliver for our customers.
What keeps you motivated and excited about the work that you do?
CATES: I'm a lucky guy. I work for a great company with outstanding people who really care about what they do. This company has a unique, authentic customer- and people-oriented culture that was here long before I arrived, and I get the opportunity to be a part of building upon it as we grow the company to new levels.
What is your least favorite thing about your job?
CATES: Good question. I'll make sure I answer it evasively. Seriously, I hate it when we lose good people. While our turnover is lower than industry averages, we will occasionally lose people that could have really contributed to our future. Obviously, this is a reality in any business, but it always feels like a missed opportunity (for the company and the individual) and a shame when it happens.
Outside of work, what do you do for fun?
CATES: I'm currently sitting in New Zealand on a Konica Minolta rewards trip and just bungee jumped with a group of friends at our event last night. This industry definitely knows how to have a good time! Kate (my wife of 20 years) and I have four kids from the ages of 17 to 6, so most of our time is spent chasing them around at their various sports and activities. I also love to run, fly fish, travel, do adventure races, read and drink wine. Anything outdoors and preferably in the mountains is highly welcomed.
Click here to view the article on ENX's website. | Click here to download the April Edition of ENX Magazine.