Five Trends in Print Production to Embrace for a Competitive Advantage
The evolving print industry constantly introduces both new opportunities and new challenges to stay competitive and remain profitable. Print production in particular is under intense pressure to meet increasing demands while also expanding and enhancing services to provide even more value for customers.
Our own production print business has been the focus of strategic growth in the past 1.5+ years, as we expanded our capabilities and offerings through the addition of Xerox to our portfolio as well as through new team members to support our production customers' success.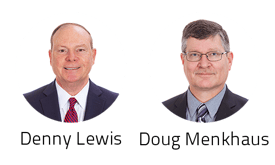 Denny Lewis, production print specialist, has spent more than 40 years in the production print industry, with a focus on the needs of in-house/in-plant print shops. Doug Menkhaus, production analyst, has worked in production print for three decades with a focus on graphic arts. Together, they serve as expert resources both for our team and for our customers to enable production print solutions that exceed expectations.
Looking Ahead: Five Trends to Embrace in Print Production
Throughout their years in the industry, Doug and Denny have been tracking business growth and decline against how organizations can adapt to changes in the industry, including the not only the ability to innovate but also to look ahead to identify and embrace industry trends.
Denny and Doug shared trends in print production that can help organizations achieve a competitive advantage, including the rise of inkjet, transforming cost centers into revenue generators through transpromotional printing, adaptive technologies to add value to the printed page, web-based automation, and managed print services.
Production Inkjet
"We're seeing several trends in digital printing. The most notable is production inkjet," said Denny. "Everyone wants to get into production inkjet because it's less expensive."
Production inkjet technology has matured in recent years, expanding its appeal as a simple, fast, reliable, and more affordable alternative to toner-based engines. For in-plant and commercial printers, inkjet means an opportunity to reduce costs while meeting customer demands; in fact, production inkjet can achieve as much as 75% cost savings over production toner.
Even as the cost of toner has come down over the years, production inkjet can provide a more competitive and more profitable model to capture pages, increase revenue, and drive business growth. It's estimated that 50% of all digital color pages are printed on production inkjet, and that number is only expected to grow, positioning inkjet as one of the fastest-growing markets in print production.
Transactional and Transpromotional Printing
The ability to achieve cost reduction through production inkjet creates opportunities for organizations to produce effective output while staying budget-conscious. According to Denny, the area of "most explosive growth" right now for inkjet is transactional and transpromotional marketing.
While inkjet can't match the quality of digital toner machines, it enables organizations to take high-volume transactional customer communications, such as insurance policies and billing statements, and turn them into effective marketing, or transpromotional, messages reliably and cost-effectively.
According to Xerox and Keypoint Intelligence, transactional mail has an open and read-through rate of at least 95%, which means that incorporating targeted promotional messages into transactional documents offers enormous potential to reach customers with relevant and timely content. And when paired with variable data printing capabilities, transpromotional marketing enables businesses to send personalized content to each recipient for the same price as a generic mass mailing.
Together, these technologies take costly transactional documents and turn them into marketing messages that generate revenue and build customer loyalty.
Specialty Printing and Adaptive Inks
But not everything is making the move to inkjet, as toner still offers unmatched graphics and color quality. "Notably, marketing communications will remain with toner for the foreseeable future because of the need for high-quality color," Doug explains.
So, how do companies and business functions that rely on print adapt to an evolving industry when other cost-reduction strategies aren't an option? Rather than reducing costs, the focus is on creating value—especially when print volumes are declining.
"Another trend is that people are looking to print less, not more. That's a reality," says Denny. "But does that mean the document is dead? No, the document isn't dead, but we do want to make the document more meaningful. One way we're doing that is through adaptive inks: gold, silver, clear, white, and fluorescent."
In a world where we're printing less, each printed page has to do more—and sometimes, that means more than CMYK. As expectations for digital printing change, specialty printing is emerging as a quickly growing segment—and a true differentiator.
"No, the document isn't dead, but we do want to make the document more meaningful."
"We recently met with a firm that was looking to take the short print runs that they had previously been outsourcing and bring them in-house," describes Doug. "After learning more about their creative work, we identified a solution that would enable them to keep those short-run color prints in-house and bring even more value to their customer promotions: a production color digital printer with the power to expand their traditional CMYK capabilities with gold, white, silver, and clear. They immediately put it to use to bring creative client work to life and are even going to use the printer for their own in-house marketing as well."
Web-Based Automation
Another way to stay competitive? Take advantage of automation capabilities to increase productivity, reduce turnaround time, and free up resources—namely, your people—for more valuable work.
"Production print shops are looking to eliminate tedious tasks by automating those routine, mundane tasks that don't need a body in front of them," says Denny. "How can we take a skilled person and get them in more of a value-add role? This is where web automation software comes in."
This is also where an experienced partner comes in. Our production team partners with our production print customers to leverage our experience and resources, as well as solutions from our manufacturer partners, to achieve these cost and time savings.
"We have a proven assessment, configuration, and installation process to help [print shops and CRDs] maintain their productivity and relevancy while responding to increasing demands from their customers."
One solution Doug has seen great success with when working with print shops and central reproduction departments (CRDs) is implementing web storefronts to ensure a quick and frictionless customer experience in getting print requests into production. "Our customers benefit from our experience," Doug explains. "We have a proven assessment, configuration, and installation process to help them maintain their productivity and relevancy while responding to increasing demands from their customers."
As print production becomes increasingly competitive, web-based automation offers production operations a competitive edge.
Managed Print Services
A newer trend in the in-plant print production space is a move toward bringing in Managed Print Services (MPS). Most commonly, organizations think of MPS as managing their hardware—and in a production print environment, hardware is certainly critical, as hardware issues mean production halts.
But MPS is more than just keeping the (literal) engines running—MPS in production print is another way in-plants can get an edge over the competition through strategies to optimize and streamline their workflows to increase productivity, maximize output, and drive revenue.
At Prosource, we work with customers to take MPS in the production space a step further by providing the hardware and software, but also the people to support your operators—or, if needed, to run your facility. Our team works as part of our customers' team, bringing operational support and additional functionality to their services to support seamless operations and serve as an on-site resource.
As the print industry evolves and pressure increases, commercial and in-plant print shops can stay competitive by exploring and embracing opportunities to reduce costs, work smarter, and provide even greater value to their customers.
---
As your expert production print partner, Prosource will guide you in identifying and implementing innovative solutions to help your in-house or commercial print business thrive -- not just survive. Our production specialists will work with you to develop a print strategy to ensure you're optimizing your existing equipment, that your capabilities evolve along with your business, and that you're ready for what's ahead.