5 Questions to Ask When Choosing the Right Copier for Your Business
---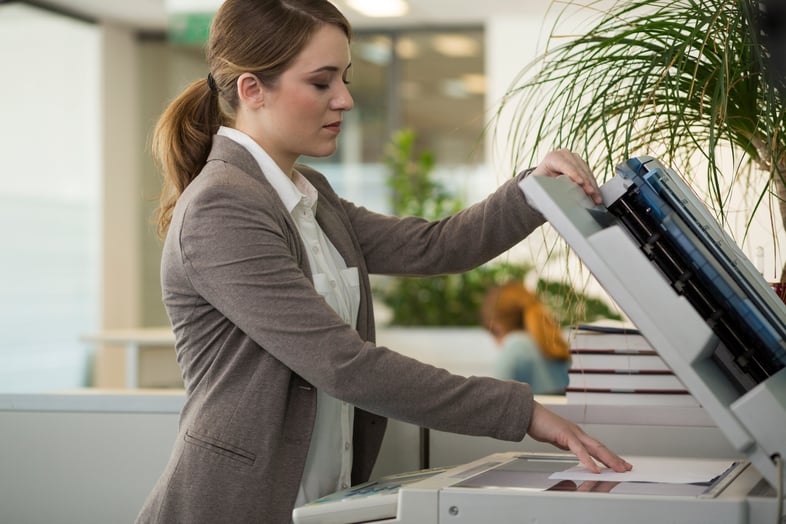 A copier can significantly increase office productivity and enhance your company's efficiency. It's important to choose a copier that can efficiently handle your output, complete tasks essential to your business, contain costs, and uses minimal resources.
Before making your purchase decision, there are many copier features to consider and understand to help you compare different models. Here are 5 questions to ask when choosing the right copier for your business.
What will the copier be used for?
When deciding which copier is best for your business, it's important to make a list of tasks you expect your machine to perform. Some businesses, for example, use their machines for copying, scanning, faxing, printing, folding, stapling, binding, and saddle stitching. All of these tasks can be automated with the proper machine. You'll want to separate the task list into two columns: must have features and wanted features. This will help you determine what capabilities your machine needs so that you're not spending money on additional features that are wanted.
[You Might Also Like: Blog Article - "Tips for Choosing a Copier Provider"]
What types of documents does your business print?
Newer digital copiers are capable of printing anywhere from 22 pages per minute (ppm) on the low end up to 100 ppm on the high end. As you look at copier options, ask yourself questions about your business and which print speed best fits your needs.
Are you printing off copies of emails, forms, and other documents that employees are using internally? Do you occasionally print off short contracts? If your business's printing needs are relatively light, a copier that prints 30 ppm (pages per minute) may be right for your business.
If you're preparing mass mailings or large paper presentations for clients on a regular basis, consider how many pages and copies you need. Law firms and schools, for example, will need a copier with greater capacity. If your business is a heavy user, copiers with printing speed of 45 ppm may be suitable for your business.
What sizes of documents do you need to print?
Many businesses require the option to select sizes of paper to print on like legal (8.5" x 14") or ledger (11" x 17") and not just on 8.5" x 11" paper. Different models of copiers handle different sizes of paper. For example, A4 copiers are designed to handle letter and legal sized paper, but not ledger. They can also typically handle some smaller sizes like postcards and envelopes. An A3 copier is designed to handle letter, legal, ledger, and some smaller sizes like postcards and envelopes.
How much printing and copying does your business do?
Are you printing thousands of documents a day or are you printing a few pages every day? How many employees use the copier? Assessing how much you're using your current machine on a monthly basis is important when evaluating which copier is right for your business.
Your print volume will also help determine what paper capacity your business requires in a machine. Basic models are capable of 100 sheets per tray while large-scale multi-function machines can hold up to 500 sheets of paper per tray.
When making the purchasing decision, make sure you choose a copier that that can keep up with your current print demands and handle any expansions you might have in the next couple of years.
Do you need the option to print or copy in color?
Although most printing is done in black and white, some businesses, such as marketing agencies and photography businesses, require color printing and copying. Evaluating if your business needs color printing is important so that you're not spending additional money on color printing that may not be necessary for your business.
Answering these questions will help you make the best choice for your business and avoid lost productivity caused by a poor investment. It's important to keep in mind that the right machine for your business isn't necessarily the one that includes the most features or the lowest price point. The best way to find a copier that fits into your business's day-to-day operations is to start by answering these questions.