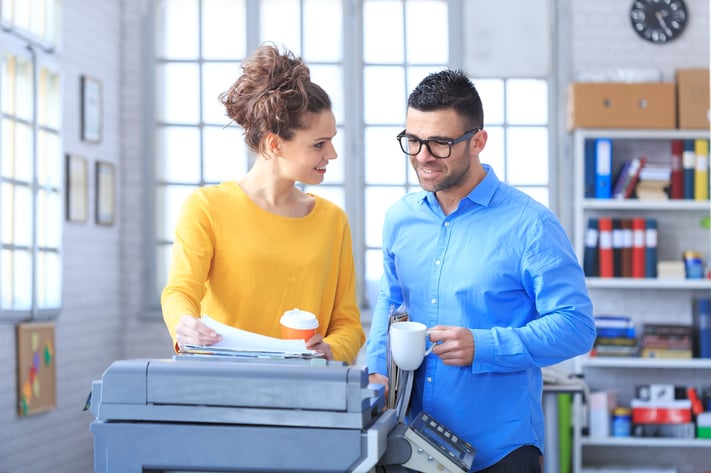 Before making your decision about which copier provider to work with, there are many provider features to evaluate to ensure you are making the best decision for your business. Here are 6 tips for choosing a copier provider.
[You Might Also Like: Blog Article - "5 Questions to Ask When Choosing the Right Copier for Your Business"]
Flexibility & Variety
As your business grows and expands so does your technology needs. Choose a copier provider that carries products you need now, as well as ones you may need in the future. Using providers that supply a variety of models for each product range is also important. When your business grows, you may need to upgrade small devices for large devices with multiple features and higher capacities. Or, you may currently have large devices but decide that executives need smaller machines in their offices for security and convenience.
Quality & Durability
Evaluating product quality and durability is critical to ensuring that you have the least amount of copier downtime and to keep repair costs down. Purchasing equipment based solely on price can mean that you receive older and less reliable equipment which can negatively affect your business's efficiency and productivity. This can result in additional downtime and repair costs that outweigh the cost of purchasing a quality, durable machine upfront.
Timing & Delivery
Relying on a copier provider that can respond quickly when needed is important. Find out how the provider handles delivery of the machine. Do they set-up the machine and make sure it's working properly? Do they offer training? Is any additional support offered?
Financing & Warranty
Having multiple financing options available will give your business the flexibility you need to take some of the stress out of managing your budget. What financing options does the provider offer – leasing, owning, or renting? You'll also want to make sure that you review equipment warranties to see how your business is protected if there is an issue with the machine.
Service & Customer Satisfaction
When issues arise with your machine you experience downtime that can result in lost productivity and revenue. Choosing a provider that has a proven service process will help keep machine downtime to a minimum. Look for a provider that has a guarantee covering response times and replacement equipment if parts need to be ordered. It's also important to find a provider that has a proven track record with customers, including their experience with machine implementation and how any issues were resolved.
Additional Offerings & Strategic Partnership
With the rapid growth of technology, you may want to consider choosing a copier provider that can help you with additional business technology needs. Additional technology offerings you may be able to benefit from include managed IT services, managed print services, and document management products and services. When your business is ready to leverage additional technology, you will already be aligned with a provider who is aligned with your business's needs and goals. It's also important to look for a provider who treats your relationship as a strategic partnership. With a partnership, you will gain access to technology experts that are invested in the success of your business and who are there every step of the way to ensure technology deployments and integrations are planned, sustainable, and seamless.
[You Might Also Like: Blog Article - "Is It Time to Upgrade Your Copiers?"]
Evaluating these provider features will help you make the best choice for your business and avoid lost productivity and high copier downtime caused by a poor investment and provider.