5 Benefits of Attending Prosource Tech Show VIII, Presented by Konica Minolta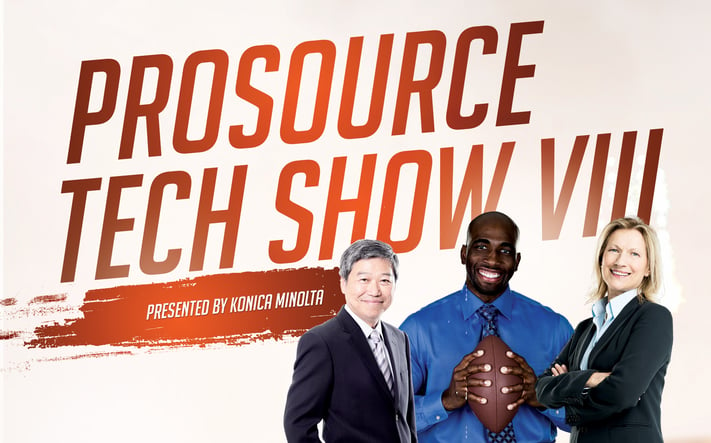 Every year, there are many high-quality technology conferences, trade shows, expos, and events to attend, allowing business professionals to interact with people who have the same passion for technology. Prosource Tech Show VII, Presented by Konica Minolta provides a unique opportunity for business professionals to attend a free show that gives them exclusive access to cutting-edge technology. Here are the 5 main benefits of attending the tech show.
---
1. Nationally and Internationally Recognized Technology Vendors
This years' Tech Show includes a line-up of game-changers in the office technology space. Vendors representing office hardware, production print, digital print for pay, off line finishing products, printers, managed print services, cyber security, managed services, document management, back file scanning, scanners, print tracking, variable data software, and more will be highlighting their area of expertise.
Vendors include: Konica Minolta, All Covered, Veritiv, EFI, Duplo,Lexmark, Sophos, Datto, Digium, Barracuda, Hyland, IDI, ACDI, RSA, Newcastle Systems, HP, Dell, Microsoft, and Prosource Office Equipment, Document Automation, and Technology Solutions teams.
2. Learn About the Latest Advances in Technology and New Technology Your Business Can Utilize
Technology is rapidly changing and technology brands are continually improving their technology to meet business' needs.
Brand experts from world-class technology vendors and technology experts from Prosource will be on-site to answer your questions, discuss the technology your business is currently using, help you navigate through the technology options available for your business, and discuss how you can take advantage of new technology to accelerate your business.
3. Premier Location
In the heart of downtown Cincinnati, the prestige of Paul Brown Stadium offers a unique experience for Tech Show attendees. The East Club Lounge, where the Tech Show will be held, is a state-of-the-art room best known for having the most spectacular view of the Cincinnati skyline.
The stadium is easily accessible from northbound and southbound I-71 and I-75. There are also numerous parking lots around its perimeter, making the stadium and East Club Lounge easily accessible.
4. Exclusive Bengals Experience
What makes our Tech Show unlike any other is our exclusive Bengals experiences. Who Dey and members of the Ben-Gals will make an appearance to interact with attendees and take photos. Guests will also have chance to get an inside look at the stadium and locker rooms through a guided tour by a Bengals staff member. Closer to the date of the Tech Show, we will be announcing a special Bengals celebrity who will be available for photo ops. Past Bengals celebrities have included defensive end Margus Hunt and defensive tackle Domata Peko.
5. New Things Are Continually Being Added...And it's All Free!
We are continually adding more technology vendors and day-of experiences to make this Tech Show unique and worth-while. In addition to premier technology vendors and appearances by Who Dey, Ben-Gals, and another Bengals' celebrity, we will have door prizes for Bengals memorabilia, a Microsoft Surface, and other items. Also, did we mention that it's all free?
---
Our goal is that you learn about the latest technology, new features, how your business can benefit from new or additional technology, and have some fun doing it.
---