Today's Cyber Threat Landscape: 10 Cyber Security Stats for SMBs
As an increasingly digital world opens organizations up to new ways of doing business, it also exposes them to new risks made even more complex by an ever-changing cyber security landscape.
To deploy the appropriate defenses against cyber criminals, you first need to understand the complexity of the threat. Cyber crime is a broad category that encompasses a range of criminal activity. Social engineering, hacking, data theft, ransomware, cyber vandalism, and identify theft are just some of the malicious activities that fall under this category.
With so many threats looming—and new ones popping up by the day—it is critical to have multiple protections in place to mitigate risk and defend against these threats from different angles. This approach is called "layered security," and it's the approach we take with our clients.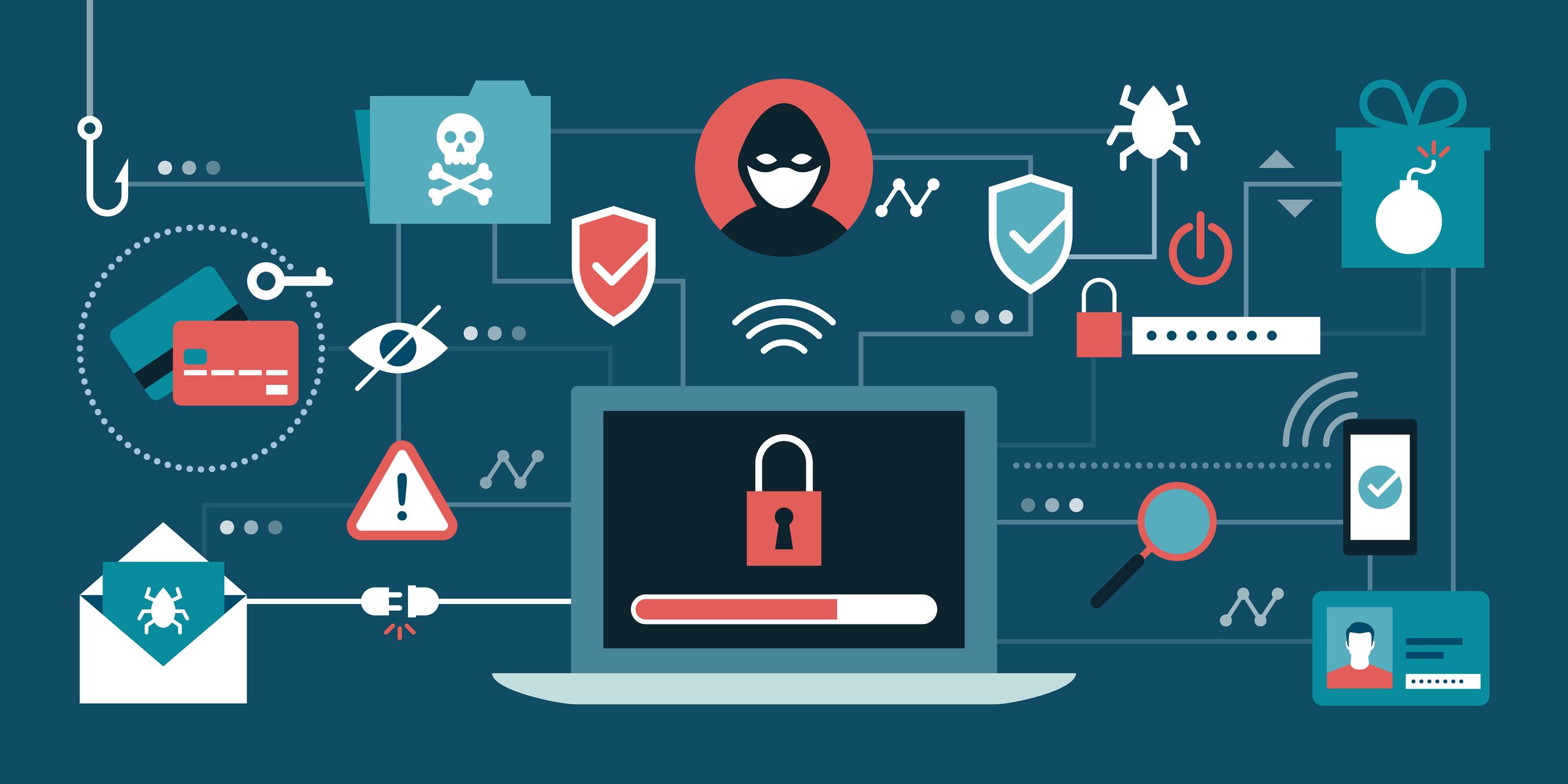 Think About Cyber Security as You Would Physical Security
Before your head starts spinning, imagine for a moment that you are protecting your house from a flood. You install a sump pump to remove excess water as it starts to enter your home. And maybe you keep a generator or backup battery on-hand in case of a power outage to keep your sump pump running in a bad storm.
Each of these items individually helps to protect your home from a flood, but relying too heavily on a single layer of protection is likely to leave you with soggy possessions. Rather, it's the combination of defenses that gives you peace of mind and a dry basement.
Cyber security works the same way: if you rely too heavily on a single protection such as an antivirus program, you leave your business open to attacks from all the other angles you've left unsecured.
[You Might Also Like: "What is Layered Security and How Does It Defend Your Network?"]
Cyber Threat Landscape: 10 Cyber Security Stats for Small and Medium-Sized Businesses
There's no shortage of shocking, sobering cyber security statistics out there. For example, Hashed Out by The SSL Store recently shared 80 Eye-Opening Cyber Security Statistics for 2019—and even that is considered a pared-down version of the current cyber security landscape.
With so much information, it's hard to know where to begin, especially if you're a small to medium-sized business (SMB) with limited IT and resources.
We work closely with SMBs every day. Here are 10 statistics that speak directly to the challenges we're seeing with our SMB clients as we partner with them to fend off cyber attacks:
1. Cyber crime generates at least $1.5 trillion in profits each year.
Because cyber crime is such a lucrative business, threats will only continue to increase as more criminals race to get their share of the profits. With so much money at stake, cyber crime isn't going away, and your company needs to be ready.
2. By 2021, more than 70% of all cryptocurrency transactions will be for illegal activity.
Untraceable cryptocurrency transactions allow cyber criminals to get paid for their crimes with little risk. Think of the criminals in movies who request payment in small denominations of unmarked bills. Cryptocurrency is the modern-day unmarked bill, it's just another reason cyber criminals have the upper hand against targets lacking the proper defenses.
3. Cyber security breaches have increased by 67% in the last five years.
The walls we built last year are not high enough to protect us from tomorrow's attacks. As cyber attacks become more frequent and more sophisticated, our defenses must also become more robust. That's why cyber security needs to be a proactive, ongoing effort.
4. More than 40% of cyber attacks target small businesses.
Think your business is "too small" to be of interest to hackers? Think again. Smaller companies have smaller IT budgets, which makes them prime targets for cyber criminals. Consider the following: cyber attacks can be launched for as little as $1, and a small B2B company, for example, may work with several large clients, creating a low-cost and low-risk yet high-gain scenario for cyber criminals…and a high-risk scenario for small companies.
5. A ransomware attack occurs once every 14 seconds.
Yes, ransomware attacks are that common. It's no longer a question of if your business will be targeted. It's a question of when. The good news is that next-gen antivirus programs are now capable of stopping ransomware in its tracks. So, if your antivirus program is a few years old already, the clock is ticking—it's time for an upgrade.
6. The U.S. ranks first among countries targeted by cyber attacks, and the number of attacks is only expected to grow.
The United States is targeted by cyber security attacks more often than any other country in the world, which means that any US-based company could be on a cybercriminal's radar. And specific industries are even hotter targets. Healthcare organizations, for example, are estimated to experience a 5X increase in ransomware attacks by 2021.
7. More than three-quarters (76%) of organizations have been phishing targets.
Phishing attacks mimic legitimate communications intended to trick unsuspecting victims to take the bait. As your organizations' employees take on more responsibility and handle more communications, the likelihood increases that they will receive a phishing email and unknowingly take the bait.
(Don't get hooked! Check out these six tips to avoid a phishing attack.)
8. 1.16 billion email addresses and passwords were exposed as part of a massive public data breach discovered in early 2019.
Do you use the same password across multiple accounts and websites? Data breaches constantly make user passwords available on the dark web, giving hackers easy access to your organizations' seemingly "secure" portals. Strategies to secure access to company data should include comprehensive password policies and enabling multi-factor authentication wherever possible.
9. 92% of malware is spread by email.
Did you know that the average employee spends 28% of their week reading and responding to email? That means that each person in your organization is making daily decisions that affect the security of your network. Pair that with the fact that 70% of employees don't truly understand cyber security and how to stay safe online, and the security risks your company faces are significant.
10. Outdated, unsecured software accounts for 22% of cyber security issues.
Nearly one-quarter of the cyber security risks your organization faces could be mitigated by ensuring your systems and software are always patched and up to date. For example, if you still have PC users on Windows 7, your organization will be vulnerable to increased security threats upon Windows 7's end of life in January 2020.
[You Might Also Like: "Windows 7 End of Life: What You Need to Know"]
While these statistics are alarming, they can all be addressed through proactive, ongoing efforts to secure your organization against cyber threats.
And you don't have to go it alone. Whether you need a comprehensive approach to your information technology or even just a few more layers of security to add to your toolkit, our expert team has you covered.
Want to learn more? Contact Prosource today to discuss your cyber security concerns and receive your 15 Ways to Protect Your Business from a Cyber Attack checklist.