Managed Services Do's and Don'ts: Lessons to Learn Before You Jump In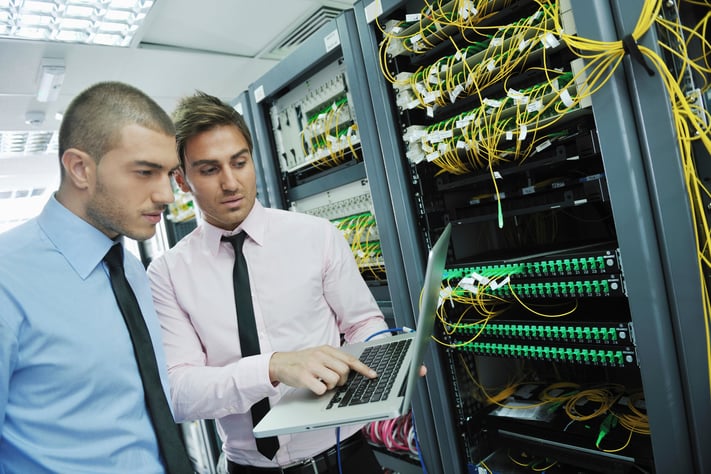 By Michael Nadeau, Senior Market Analyst for Actionable Intelligence and contributing editor for ENX
Providing managed IT services has been a boon to many office equipment dealers. In some cases, it has even saved the business as demand for printer and copier sales and services decline. It's a natural fit, because supporting networked printers and copiers gives dealers insight into their customers' network infrastructure. That and their relationship as a trusted service provider puts office equipment dealers in a unique position to effectively provide IT services to their customers.
The fit and success of others does not mean it will be easy to provide managed services. Like any worthwhile opportunity, it requires a lot of thought, research, planning, and investment. If you don't understand what to expect and fail to prepare accordingly, you risk pitfalls and low returns.
ENX spoke with a number of dealers with successful managed services programs. We also interviewed companies that provide support and software for dealers' managed service offerings. From them, we learned what they did to succeed in managed services, as well as some common mistakes that dealers should avoid.
Ask Yourself "Why?"
The reason you are getting into managed services makes a difference. "A lot of dealers got in from a defensive as much as an offensive perspective," said Doug Grimm, VP and GM of Collabrance, which provides a technology stack, service desk outsourcing, and other resources that enable dealers to provide managed services. "He who owns the network will own all output devices. If that's the only reason, the focus and determination to succeed may be not as great as those looking to diversify or raise the valuation of the business," he added, noting that the office equipment businesses that also do managed services often sell for more money when acquired.
Providing managed services also allows dealers to get more intimate with their customers. "Some dealers want to go deeper and wider with their customers rather than get new customers. Managed services is a natural fit," said Mr. Grimm.
All this translates into gaining a competitive advantage. Everyone we spoke with said that dealers are not only getting more revenue from existing office equipment buyers, but also earning office equipment business from new managed services customers. That's especially true for those already offering managed print services. "Doing both print and PC enables channel partners to move up [the customer's] stack, adding more and more value over time," said Mr. Weir, General Manager and Global Head of Print Services for Hewlett-Packard.
"Five years ago, [dealers] were asking 'What is this, and why should it be relevant to me?' Now they know exactly what managed services are and their role in diversifying revenue," said Michael Amiri, director of dealer services at Continuum, a provider of outsourced IT services. "If [dealers] are not doing it now or have a plan to launch soon, they are a little bit late to the game."
Assess Your Potential for Success
Providing IT services is quite different from selling office equipment. It requires its own approach to marketing, sales, and support. "A lot of the things that made dealers successful will not make them successful in managed services," said Lindsay Dick, director of sales for Collabrance.
The technical support that dealers or IT VARs provide is often based on the break-fix model, where they only hear from the customer when there is a problem. "That's not a scalable model," said Jeff Loeb, VP of operations at ProSource, an office equipment dealer in the Midwest that offers managed services. You can't predict demand, he pointed out, and once you solve a problem, you're "at zero again" with that customer.
Another issue with the break-fix model is that it does not align with the needs of the customer, who is looking for a trouble-free operation, said Mr. Loeb. Instead of break-fix, the managed services model is one of monitoring, managing, and maintaining. It offers more value, not to mention an ongoing revenue stream for the dealer.
"We look for dealers who want to grow, scale, and invest in managed services like it's more than just another line of business," said Ms. Dick. The company considers dealers that have at least $5 million in revenue as good partner candidates. "Certainly we have partners that have less than $5 million in revenue, but typically those partners aren't willing to make the investment to make it scale," said Ms. Dick. For example, Collabrance expect its partners to invest in a dedicated sales person and a technical staff to handle issues that can't be taken care of remotely.
"Partners who have started other ancillary businesses and have been successful with them have greatly enhanced our success rate," said Mr. Grimm. These partners have already gone through the process of assessing the needs of starting a new line and making it work with the core business.
Commitment to managed services at the top of the organization is another success indicator. Collabrance looks for C-level commitment in its potential partners. "We look at how involved they are. From the top down, what is their commitment to getting managed services off the ground? What is their ability to make strategic changes?" said Ms. Dick.
"Someone needs to own the IT services deliverables, manage sales forecasts, and make sure [the dealer] is ready," said Mr. Amiri. The dealer sales team, along with the deliverables owner, will be driving a more diverse conversation with the customer, and someone needs to frame that conversation and make sure it is delivered consistently and accurately.
Focus and Pick a Sweet Spot
The range of managed services a dealer might provide is large. They include network management, help desk, back-up and recovery, website development and management, and hosting. Each service requires its own in-house expertise and support infrastructure, all of which comes with overhead. As much as 90 percent of those services will be done remotely. The more services you provide, the greater the investment and risk. If you spread yourself too thin to properly deliver everything, customers will eventually seek other providers.
"Some dealers try getting in by selling the lowest-cost solution," said Ms. Dick. They haven't sold a standard package on the service side. This leads to them having to support a multitude of different technologies. "You're managing to an exception rather than a norm, and that becomes pretty challenging," said Mr. Grimm.
It's important to figure out who the target customer is, which is most likely at the SMB level. SMB customers with 10 to 100 users and no internal IT are ideal prospects for managed services, according to Ms. Dick.
It's also important that the business is completely dependent on its IT to provide its products or services. In other words, if the server goes down, business stops. "If a company sees IT as an expense and not a strategic advantage, then it is not going to have the appetite for what managed services offers," said Mr. Loeb.
"It's difficult to provide [consistently good] managed services to both a 20-user and a 500-user company," said Mr. Loeb. Those companies will use dramatically different technologies. ProSource focuses on companies with 20 to 100 users. This allows them to train and certify its support team on all the network firewalls, anti-virus software, and equipment its customer base uses. "By doing this, we can support our customers quickly, profitably, and reliably," said Mr. Loeb.
Staff and Train Appropriately
To support managed services, dealers need staffing strategies for two key areas: sales and technical support. On the sales side, it's common for a dealer to have their core sales or imaging reps sell managed services as an add-on. That's often a mistake because selling managed services requires a different type of conversation with the customer and a different knowledge set on the part of the reps.
The core sales team can play a significant role in developing the managed services business, particularly in producing sales leads. It's best if they have an incentive to pass leads along to the managed services sales team. "An office equipment dealer might have 50 sales reps out in the field every day," said Mr. Loeb. For managed services, they can be an effective lead generation arm, he added.
At ProSource, the sales team is trained to look for clients that fit their ideal customer profile. When they find them, they ask a few qualifying questions and pass the lead to the managed services team, which sends a specialist to make an introduction. The managed services specialist explains to the customer what managed services are and asks questions about the customer's business to determine whether they are a fit.
ProSource looks for people with account management skills, even on the technical side. A key role at the company is the virtual CIO (VCIO). "The VCIO has strong technical skills and customer relationship skills–about 50/50," said Mr. Loeb. "That person is difficult to find and more expensive than the typical engineer."
The VCIO's job pre-sale is to assess the customer's IT infrastructure. He or she should understand the level of support needed and to identify issues that will need to be addressed. Once a contract is made, the VCIO works on the customer onboarding process, which includes stabilizing the network environment and installing the monitoring agents.
The in-house technical expertise of most dealers is typically focused on implementing projects. That's useful, but fulfilling a managed services contract requires people who can monitor and maintain the client's IT infrastructure as well. "Some of our larger clients have tried to run a project shop and a managed IT services shop with same people," said Ms. Dick. However, the profile of someone who can do project work well is significantly different from someone capable of the work that a managed services contract requires. That's one reason why some dealers outsource managed services operations that can be handled remotely and keep project work internal, she added.
Supporting managed services requires people with deep knowledge of back-end IT infrastructures. "Dealers that are new to IT don't know what those people look like, so having a partner that delivers that back-end talent is important" said Mr. Amiri. "Sales teams need to have confidence in the deliverables to support the customers' IT demands," he added. Otherwise, they will not risk their core relationship with the customer by pushing something new like managed services.
Preston Woolfolk, director of managed network services at business technology integrator Documation, echoed the need to work to get sales onboard. "One of our biggest hurdles was our traditional copier sales reps not wanting to learn something new," he said. Once the company had a few successes in managed IT services under its belt, however, these same reps bought in to managed services quickly.
Price Based on Value and Cost
Some dealers don't put enough effort into building a business plan and sales strategy for their managed services offerings. This can lead to underestimating the costs associated with fulfilling managed services contracts, which can be disastrous when establishing pricing for those services.
"Partners who are already offering managed services might come to us because revenue is not meeting projections or the costs are so high and the work is unpredictable," said Collabrance's Grimm.
Mr. Loeb said that ProSource settled on a flat-rate model after experimenting with other pricing methods. They started with a per-device model, which worked until businesses started using more mobile devices. Then ProSource went to a per-user model, which also worked for awhile. The flat-rate that they use today is based on the number of computers, users, and interactions, and they review each account monthly to monitor changes. ProSource finds this model the easiest to manage.
"Pricing is very difficult," said Mr. Loeb. "You can't price for a worst-case scenario." He thinks most dealers under-price their managed services offerings because of their break-fix mentality. "They will spend more time with their customers than with the break-fix model. If they don't, then they won't be able to provide value," he said.
Mr. Loeb said that it took ProSource several years to find the right pricing level based on their true costs and the customers' perceived value. They built a spreadsheet outlining all their costs including personnel, outsourced services, and training. Once they knew the true cost, they were able to build in enough margin. "Customers are willing to pay a premium if you're willing to be an integral part of their business," he said.
It took time for Documation to understand its costs as well. "Once we were able to build in all our cost of goods, we had a much better relationship and service level," said Mr. Woolfolk. They were able to set customer expectations much more accurately. "We under-assumed what customers were willing to pay," he added. "We didn't realize the value we were offering."
The value might even be higher for some customers. "[An emphasis on] security or compliance creates more willingness to pay," said Mr. Weir.
Customers that have been used to a break-fix relationship might balk at first at a monthly fee, because most of the time they are not paying that much for IT in a given month. Mr. Loeb said that this is easy to counter. "Over the years, there are spikes in IT costs. When you average them out the true costs become clear and there's not much difference compared to managed services," he said.
Partner Rather than Build
Some dealers have built their own support stacks to monitor and manage the IT services they provide. While that might work for those with the expertise and a limited customer base, doing it yourself presents a host of issues.
First, it puts the dealer in the software development business. As systems change, the stack needs to be updated. In addition, the dealer becomes responsible for keeping up with ever-changing security issues. If the customer base uses a wide range of applications and networking platforms, it can be a nightmare to create a support stack that can work well with them all.
"Do not build in-house," warns Mr. Woolfolk. "Don't even consider your own network operations center (NOC) unless you have at least $100,000 in recurring monthly revenue." Risk is a factor. "If something goes wrong with a copier, the worst case is you replace the copier," he said. "If something goes wrong in IT, like you delete data, you might put the customer out of business." By using Collabrance, Documation mitigates that risk.
Leading providers like Collabrance and Continuum offer resources beyond a technology platform and outsourced services. They have a vested interest in their partners' success, so they also offer best practices templates, advice for building business plans, and other information resources. Using a managed services platform not only makes costs more predictable, but also provides guidance for establishing resource needs. Outsourcing also lets you automate parts of the IT management process, including network monitoring, system updates, and predictive maintenance.
When Documation first considered managed IT services, they realized they were looking at a significant investment, particularly in the right personnel. "You need boots on the ground," said Mr. Woolfolk. "We looked at the full head-count and how many people we would need to hire." The company partnered with Collabrance to outsource services, reducing in-house hiring and Documation's up-front investment in managed IT services.
"Continuum provides a blueprint for programs and specifics to help dealers who are transitioning into IT systems, whether it's technology, people, or the processes between them," said Mr. Amiri. For example, Continuum offers a dealer launch program that does "all the heavy lifting" for dealers to get ready–marketing, sales, pricing, proposals, compensation, margin forecasts, and commissions. The services that Continuum supports can be white-labeled, so that the dealer's brand is protected.
A dealer can go to market with managed services more quickly and with less financial risk. "Due to a time-tested launch plan, dealers don't have to start from scratch," said Mr. Amiri. "We'll arm sales teams with the right kinds of tools to enjoy success immediately."
Finding a partner requires a lot of due diligence, because it's hard to change a tool or support stack once it's in place. ProSource went through a trial-and-error process with several different tools before it settled on the Continuum product. "A lot of them created more work for us," said Mr. Loeb. "We were getting hundreds of alerts, and most of them were not anything we needed to know about."
Some OEM partners provide managed services, notably Konica-Minolta's All Covered and Ricoh's mindShift. Hewlett-Packard's Managed PC and Print Services might be the largest of them, and it offers the opportunity for its channel partners to share in that business. "A dealer might have a [managed services] customer in the Pacific Northwest that has an office in Texas," said Mr. Weir.
"They have the ability to service the customer locally, while we manage the Texas office." HP partners can also resell HP's service offerings or earn a commission through referrals.
Earn the Customer's Confidence
Selling and fulfilling managed services requires a much more intimate relationship with your customers. "We are more involved with our customers on their business goals," said Mr. Loeb. By understanding what they are trying to accomplish, a managed services provider is better placed to build and maintain an IT infrastructure that will help their customers achieve their goals.
For instance, ProSource works with its managed services customers to build a five-year technology roadmap that aligns with their business goals. That plan is reviewed every quarter with the customer to avoid surprises. For example, if a server needs to be replaced, this process ensures that the customer knows well ahead of time and can budget accordingly.
At first, you might have an easier time selling managed services to new customers, as Documation discovered. "Our current customers were more hesitant," said Mr. Woolfolk. "Some had never heard of managed IT services before." They also questioned an office equipment dealer's ability to provide those services, much like Documation's own internal sales team. With new customers, it was easier to have a conversation about the company's full range of capabilities.
Keeping the conversation focused on the business and goals will help earn trust. "Don't talk technology, talk about what tech does," said Mr. Grimm. "It doesn't matter what brand is on the firewall, just that it keeps the security threats out."
---
Do's
Get management buy-in: Managed services requires the company's full commitment

Do your homework: Know the unique requirements of managed IT services in terms of technology, personnel, and financial investment.

Build on past successes: If you've done well with managed print services, for example, then it is a smaller leap to managed IT services.

Know your costs: If you don't, you might price your services too low.

Get the sales team on-board: Earn their confidence in the services and incentivize them to promote it.

Create a customer profile: Know who you can effectively and profitably service.

Price based on value and cost: Customers will pay a premium for services that enhance their business, and you need to ensure a good margin.

Select partners carefully: They need to be well-suited to serve your customer base and complement your capabilities.

Build a deeper relationship with your customers: Managed services require a more consultative approach, and customers want a partner that will help them grow their business.
Don'ts
Treat managed IT services as an add-on to what you already do: They require a commitment to operate as its own business unit.

Assume you can use your existing staff: Selling and managing IT services requires different skill sets and approaches.

Build your own technology stack: It will be difficult and expensive to maintain and limit the range of customers you can support.

Be all things to all customers: This will lead to thinly stretched resources, unprofitable contracts, and unhappy customers.

Sell based on technology: The customer doesn't care what tech you use, just that it will be reliable and help them meet their business objectives.

Underestimate the risk: The consequences of a failure in managed services can have a dramatically negative impact on the customer.

Go it alone: Outsourcing partners can help you better scale, provide reliable service, and keep costs predictable.
Article published in the July 2016 edition of ENX Magazine. Click here to view the article on ENX's website.