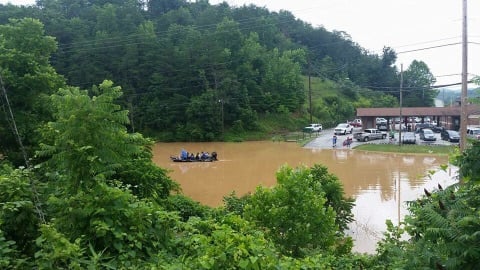 HUNTINGTON — The city of Huntington and the Ohio Valley Environmental Coalition are collecting supplies for flood victims in West Virginia.
The items will be collected through Thursday, June 30, and OVEC will work with other groups across the state in order to coordinate how the items will be best distributed.
OVEC is also seeking volunteers who can offer to help load supplies on Thursday and provide transportation. For more information or to offer assistance, email Natalie@ohvec.org.
The drop-off locations are Blacksheep Burritos and Brews, 1555 3rd Avenue, Huntington, from 11 a.m. to 5 p.m. every day and Facing Hunger Foodbank, 1327 7th Avenue, from 8 a.m. to 4:30 p.m. Monday through Wednesday.
The following other groups are also collecting donations for the flood victims.
The Lesage Lions Club and the Hillbilly Toy Chest in Milton are collecting cleaning supplies and other donations. Drop off at the Hillbilly Toy Chest, 878 E. Main St., Milton, or from 2 to 4 p.m. Saturday, June 25, at the Lions Clubhouse, 6020 Kyle Lane, Lesage.

The Milton Baptist Church Mission Committee is collecting cleaning supplies. Drop off from 9 a.m. to noon Sunday, June 26, at the church, 1123 Church St., Milton.

Marshall University Women's Studies Program is collecting monetary donation on GoFund Me. The link is https://www.gofundme.com/2bjuy3x8. They also plan to have a drive across campus next week.
The West Virginia Voluntary Organizations Active in Disaster asks individuals seeking ways to help disaster survivors to make a monetary donation to its Disaster Relief Fund or register as a volunteer at www.volunteerwv.org. Financial donations are accepted and more information can be found at https://wvvoad.communityos.org.
Article published by the Herald Dispatch. Click here to visit the article on their website.