Challenges of a Paper-Based Recruiting Processes & How to Overcome Them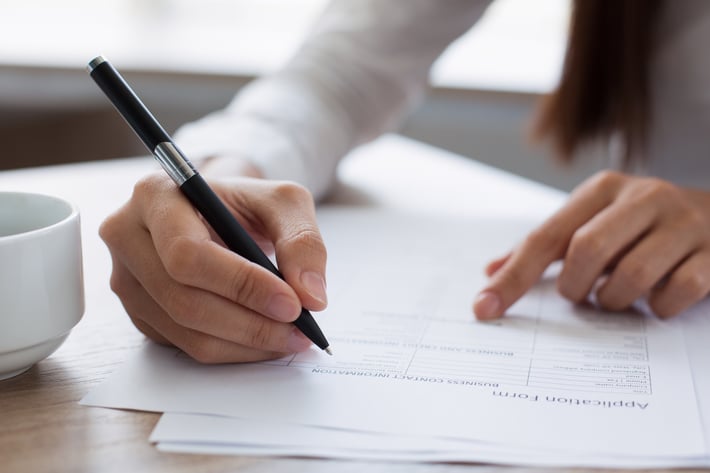 No matter the company, hiring the best people for each open position is essential to staying ahead of competitors in today's evolving markets. Many companies waste valuable time and money using manual, paper-based recruiting processes in their human resources (HR) department. The inefficiency of relying on paper processes keeps staff from spending the necessary time proactively finding and hiring the best candidates.
Paper-Based Recruiting Process Challenges
Paperwork is a part of every aspect of HR, and often times HR teams spend more time pushing paper than focusing on higher value tasks – like finding the best candidates for open positions. Traditional recruiting processes can be extensive and unorganized because staff wastes valuable time collecting paper applications, passing applications between departments, and tracking applicants using spreadsheets or outdated filing systems.
[You Might Also Like: Blog Article - "What is Enterprise Content Management and Why You Need It"]
Managing paper documents when there is an influx of resumes and applications for open positions can be a challenge, especially when, on average, 250 resumes are received for each job opening.[1] Applicants expect to receive timely updates about their status in the hiring process. Depending on the number of applicants, it's not always possible to email or call everyone – this often results in multiple follow-up emails or calls from the applicants.
U.S. Equal Employment Opportunity Commission (EEOC) regulations require that employers retain applications and related documents for at least one year.[2] Piles of paper resumes, applications, and legal documents are at high risk of being mishandled with paper-based recruiting processes. With stacks of paper documents piling up, companies also incur additional costs to store all the documentation required for every applicant.
Shuffling through a sea of resumes and applications to identify the most qualified applicants is both time consuming and ineffective. The manual review of resumes for every job posting proves difficult to distinguish the qualified from unqualified and the best candidates are often overlooked.
[You Might Also Like: Blog Article - "5 Benefits of Enterprise Content Management (ECM)"]
Automate Your Recruiting Process
Overcoming the challenges of paper-based recruiting processes cannot be done without a systematic and uniform procedure to track applicants and candidates. Advances in technology have made streamlining aspects of the recruiting workflow possible. Automating paper-based, manual processes allows your HR team to focus on finding the best candidates for open positions.
By capturing, storing, and routing applicant files electronically and centrally, recruitment staff can:
Access all applicant information they need, when they need it

Make smarter hiring decisions by spending more time identifying the best candidate for each job and less time organizing paperwork and supporting documentation

Speed up the hiring process by creating consistent offer letters with document templates

Adhere to compliance regulations by controlling who can see application information within your company
By adopting recruitment automation, the time to fill an open position will reduce, your quality of hire will improve, and your recruiters will become more strategic by freeing up time to spend on proactive hiring.
Ready to see how you can leverage automation in your recruiting process?
[1] https://www.eremedia.com/ere/why-you-cant-get-a-job-recruiting-explained-by-the-numbers/
[2] https://www.eeoc.gov/employers/recordkeeping.cfm
---