Five Threats to Your Mobile Device Security & How to Protect Your Data
In late 2016, we crossed a major technology tipping point that defined a marked change in how we interact with the internet: more people were connecting to the internet with a mobile device such as a smartphone or tablet than with a computer.
And that number only continues to grow. Cybersecurity Ventures predicts that by 2025, mobile devices will account for almost 80% of internet traffic. With this trend in mind, it's time for us all to become more aware of how we manage our cyber security when we're using our phones and tablets.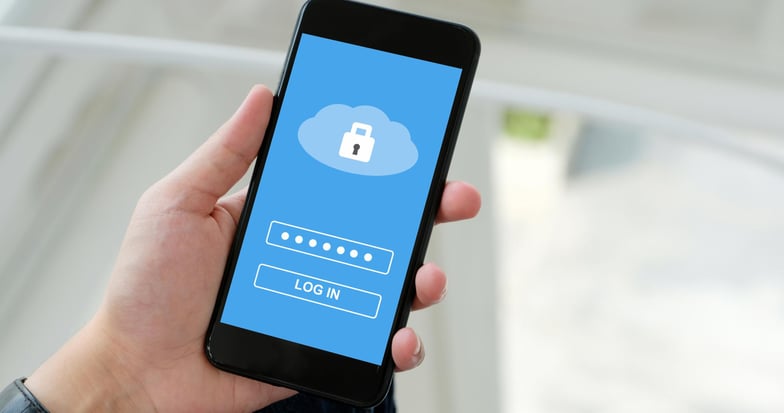 Why Mobile Security is More Important than Ever
We entrust our mobile devices with a large amount of personal data. Consider how you use your smartphone: you might sometimes use it to make phone calls, but even more often, it's a camera, personal assistant, library, email portal, map, bank, store, gaming device, radio, calculator, photo album, fitness tracker, travel guide, and alarm clock.
We tend to forget how much we rely on our mobile devices until something goes wrong. But since our smartphones and tablets touch so many aspects of our personal and professional lives, we should take security on these devices very seriously.
Read on to learn about five common mobile security risks and threats and easy ways you can (and should) protect yourself and your data.
Risk: Unauthorized Device Access
Protect yourself: Lock your device
While you may feel certain that the people around you will respect your privacy, you never know who may try to access the data on your phone or tablet. Some breaches may be relatively innocent and minor—a friend pranking you by leaving funny comments on your social media account or a child using your phone to order a toy, for example. But other breaches are much more serious, like someone snooping through your emails and messages or installing spyware on your phone.
Because these devices are used to easily access a wealth of personal and work-related content, the most basic level of security is to ensure that the device is locked when not in use. This prevents someone from casually picking up the phone or tablet and accessing your data.
Depending on which mobile device(s) you have, there are several options for locking and unlocking your phone. Different technologies allow for face unlock, eye scan, passcode, pattern unlock, or fingerprint reader. Pick one that works for you and use it.
Risk: Lost, Stolen, or Broken Mobile Device
Protect yourself: Secure your mobile data with device backup, remote locate, and remote wipe
The saying goes that an ounce of prevention is worth a pound of cure. Securing the data that lives on your phone by enabling a few key security features—device backup, remote locate, and remote wipe—will put you in a position to protect and recover your mobile data if your phone is lost, broken, or stolen.
These three features, when enabled, can turn a disaster into a minor annoyance.
Device Backup
Whether you're an Apple or Android user, there are plenty of options for backing up the data on your device. The most important step is enabling one of the options before it's needed. You don't want to hear the "plop" of your phone falling into the pool and then decide that you want to have a copy of the pictures you just took on your vacation.
Not only do you need to have your data continuously backed up, but you also need to understand where that backup is stored and how to access the information when you need it. Spend some time researching your options and pick one that works for your budget, storage needs, and ease of use.
Remote Locate
Most smartphones and tablets have built-in features to help you locate the device when it has been misplaced. Being able to have the device play an alarm even when the phone is set to silent or displaying the location of the phone on a map can save the day, but again, these features need to be configured before they are needed.
Remote Wipe
When all else has failed, remote wipe is the last thing you can do is ensure none of your data falls into the wrong hands. Knowing how to remotely wipe all personal information preserves your privacy in the event that your phone cannot be recovered. This is another reason having a backup of your data is so important—so you can remotely wipe your mobile device with confidence if the need arises.
Threat: Viruses, Malware, and Spyware
Protect yourself: Your mobile device needs anti-virus and application updates, too.
Mobile devices are vulnerable to many kinds of cyber attacks, including ransomware, botnets, malicious apps, and spyware. To protect your mobile data from these attacks…
Threat: Unsecure Network Connections
Protect yourself: Connect only through secure channels
One of the biggest risks to your mobile security is using unsecured or spoofed WiFi connections. When your connection isn't secure, hackers can insert themselves between you and the internet and watch your actions as you access your email, bank accounts, and social media accounts.
In general, avoid using free WiFi in public places such as coffee shops and hotel lobbies whenever possible, and never use these connections to access any confidential information. The safest option, of course, is to use your mobile device's data plan for accessing the internet in public locations and using WiFi only in places where you have a secure, password-protected connection like at home or work.
Threat: Apps that Steal Your Data
Protect yourself: Make safe app selections
Some apps, even apps from secure sources like Google Play or Apple's App Store, can steal your data. They do this by gathering more data from you than is necessary to perform their tasks and then selling or otherwise misusing your personal information.
We know it's a pain, but take the time to read the terms and privacy policies before enabling an application. Also, pay special attention to the access you provide the app. For example, a game shouldn't be requesting access to your contact list. Protect yourself by being vigilant and not simply allowing every access request that is prompted.
This list is not comprehensive, and there many more potential risks to your mobile device, but the above tips are a good place to start to ensure you have the basics covered—both for the security of your mobile device and your own peace of mind.
At Prosource, we believe your organization's security is only as strong as its weakest link, so for National Cyber Security Awareness Month, we're taking a more personal approach to awareness. Every week throughout October, we'll send an email with cyber security tips and insights to help you stay protected against cyber threats. Not yet a subscriber? Sign up here.
You can also check out our LinkedIn, Facebook, and Twitter pages for cyber security tips and tricks.